Today's post is a review of a product I've been using for a while, MUA's Mosaic Blush in English Rose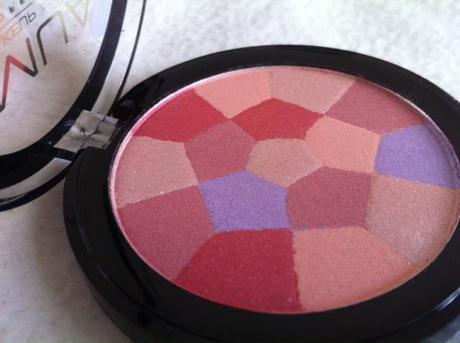 MUA Mosaic Blush in English Rose
I bought the MUA Mosaic Blush a while ago when I was investing in few MUA products. At the time the big news on the beauty blogging scene was the release of the MUA Lip Boom. I ordered the Lip Boom and popped the Mosaic Blush is my cart on the MUA website, basically becasue it looked pretty and I'm a sucker for a new blush. However, this is one impulse purchase I'm glad I made.
I haven't seen the MUA Mosaic Blush covered on many beauty blogs, perhaps because it isn't very new any more, but I definietely think it deserves a mention. As I've said I ordered the blush becasue it looked pretty, I know sad but true but I bet I'm not the only blogger or otherwise to have purchased something becasue it looks nice?! Like most MUA products it comes in basic black packaging, but the packaging does the trick and is sturdy enough that you can carry it around in your handbag without worrying about it breaking.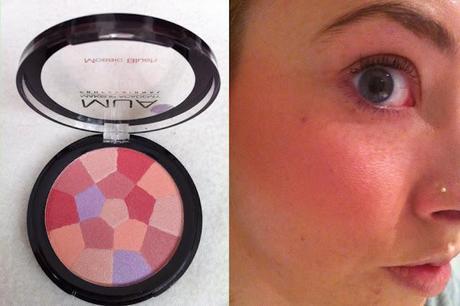 MUA Mosaic Blush in English Rose applied to the cheek
The pretty factor is created by the fact that the product is presented as a mosaic of different shades. All swirled together this creates a soft and pretty blush that is easy to wear and apply. However, if you just use this as a blush I think you are over looking what a versitile little product this is. If you use a small brush you can use the shades insividually, which can be used as both an eyeshadow and a highlighter. This means that the MUA Mosaic Blush is a great little traveling companion as you can basically use it as three products in one! 
The MUA Mosaic Blush costs £2.50 and is available from Superdrug and the MUA website. I've been using this blush since I bought it in April and I really like. The MUA Mosaic Blush is an mpluse purchase that paid off and let's face it at £2.50 its a bargain too.
Follow me on: Twitter - Hello Cotton - Blog Lovin' Follow me on: