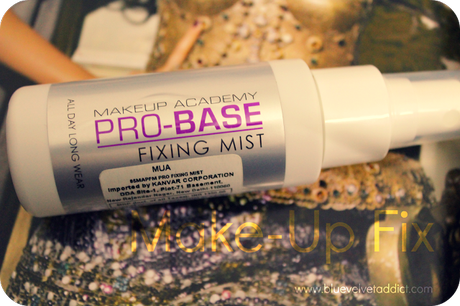 "Fixes your makeup in place all day long. Protects against heat, humidity, cold and windy conditions; whatever your day throws at you - your makeup will hold in place!"

Directions: Apply makeup as normal.
Shake your fixing mist and then hold at arms length and spray in a horizontal swishing motion until you have your desired cover. Avoid direct contact with eyes Moisturises and hydrates skin Micro-fine mist for easy application Up to 8 hours fixing time.


This is the first MUA product that I have tried. I know very well that MUA has a cult following for its amazing products and unbelievably low prices. But, somehow, the product range never impressed/pushed me enough to buy anything from it. Also added discouragement was the unavailability of MUA in India. The products sold on online stores in India are almost double the original price.  For example, this very product, which costs £5.00 (approx INR 491), is marked at INR1350. Anyways, I ended up buying this online from a website for INR 600 (I know it will be cheaper along with shipping fee it I buy stuff directly from MUA.com, But I just do not like anything else :-/) which was having the awesome sale for the Diwali fest.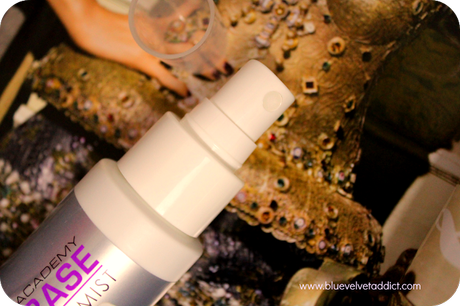 The product comes in a 60 ml white plastic bottle. The packaging is very basic. It has a decent spray nozzle, that does its job pretty well. Like any other setting spray, the point is to keep it at an arms length and spray it evenly in you face.
The product is a clear watery liquid. It has a certain smell, like some chemical but it is not overpowering or too "on you face". If you shake it, it kind of becomes frothy like some Miceller solution, only that this one is supposed to fix the makeup and not remove it :)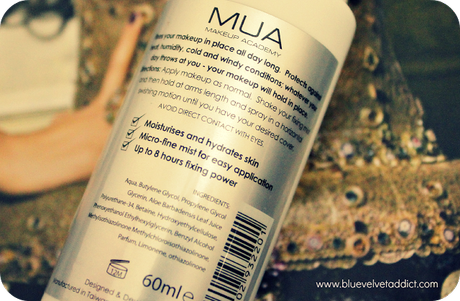 Now if you talk about, whether it does it's job well or not....then I would say...Yes it does. It would not be fair if I compare it with my MAC, Urban Decay or Scandinavia (my favourite!!) setting sprays. It is much much cheaper than them. But, it is a marvel. For testing purpose, I used it last night during a party, I was wearing makeup, namely - Bourjois Healthy Mix+L'Oreal Infallible Compact+MAC Studio Fix Concealer (so that you have a general idea of the lasting power) . The party lasted till 4am ( I had my makeup on by 6:30pm) ...results...my makeup had not budged, like even a little!! I mean I had it on for almost 10 hrs, and it remained...fresh! Only con..my face did feel a little tightness, which I normally do not with my Healthy Mix Foundation. So I am blaming it on this spray.
All in all, I am liking this Pro Fix Spray. It is easy to use, travel friendly and doe it job very well. I will definitely recommend this to my friends and probably will buy it again.
..till next post...xoxo....