February 9th, 2014 i left my home of Colorado, U.S, on an airplane headed to Tanzania, Africa (by way of Houston, Istanbul). I had every intention of climbing Mt. Kilimanjaro (19,341 ft) after spending the last year raising over $9,000 for at-risk youth outdoor programs for Big City Mountaineer's Summit for Someone.
and i did it. It was good. Indescribably, heart filling, nerve wracking, calf pulling, life affirming, monkeys in the rainforest, above the clouds at sunrise, lightheaded-ly good.
and i loved it. i loved the people that i met. i loved the air that i smelled. i loved the six ecosystems i stepped through. i loved the rain that soaked through my boots. i loved the rare snow covered summit. i loved the children who ran to me in the streets to hold my hand. i loved the companions who made me laugh until i almost peed my pants because of the liters and liters of water in my body. i loved the rocks that sounded like breaking dishes when i stepped on them. i loved the dance parties and the snowman at 14,900 (in africa!). i loved the scary parts and the lonely parts and i loved all the parts that i didn't even love.
forever, with my whole heart and the blood pumping down to the tips of my toes and to the ends of my fingers that grew numb near the summit to the frozen hair tucked in the hat on my head, i am utterly, blissfully, endlessly grateful for the opportunity to meet Mt. Kilimanjaro, stand on her head, and thank her for everything she's taught me:
anything's yours when you try your best, work your hardest, ask, give thanks, laugh when you can, laugh harder when you can't, respect the earth that you stand on and learn from it, and above all else, wear a tutu (or go pantless) at all costs.
this is for the kids who will spend their first time in a tent this summer with BCM. this is for my incredible mother and my brilliant father who taught me why mountain water is the sweetest. this is for everyone who donated to my cause or wished me luck or told me i was out of my mind. this is for you. this is for me. THANK YOU.
in no particular order, the below are excerpts from my journal or letters written on the mountain and a very select few pictures to help take you there.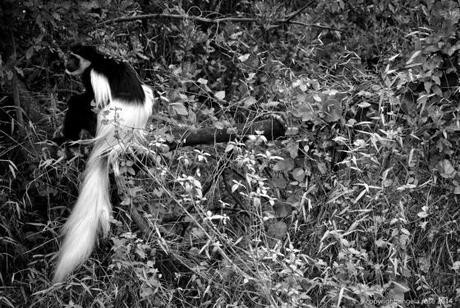 (note: this is a view from kilimanjaro, not a view of kilimanjaro)
"There is something oddly life affirming about sitting on a slanted slope, in a tent, with rain/hail mix pelting the nylon at 15,100 ft. I've been in far more lightning storms than I should be alive to account to, but this one, with thunder bouncing between my left and right ears, is not haunting. It almost feels like the welcoming gong…
The thunder is what woke me. Maybe it's meant to be the drum beat setting our slow ascent pace. Maybe it's meant to be a reminder that the mountain is bigger than us all. No matter the reason, I can feel it roaring through my rib cage.
I hear you calling me, Kili, and I think we're going to be friends."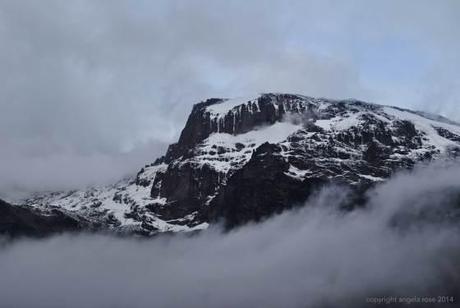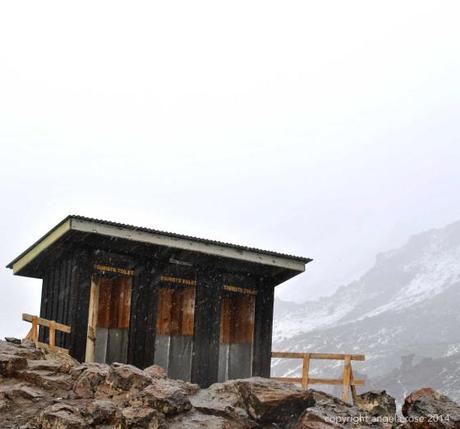 "Sitting at the airport, listening to two older men, one American, one maybe German, discuss if we are at the right gate:
'No, I'm not going up. Are you crazy? Too high…no oxygen.'
I smile with my back against them, eavesdropping."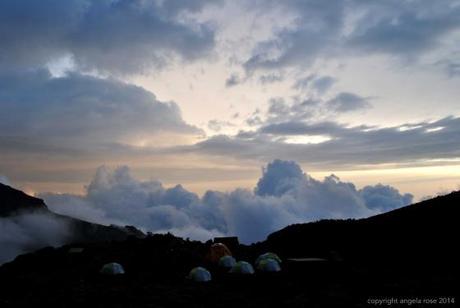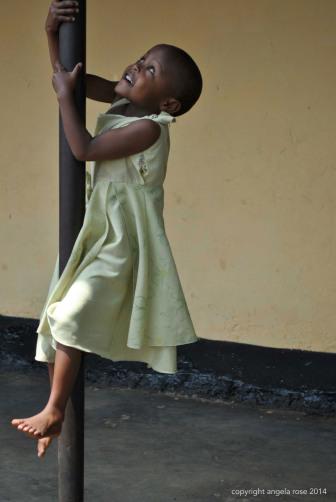 "I'm writing you from the slopes of Kilimanjaro…
Currently the sun is rising. The sky is getting pinker with every rotation of the clock. My tent is sloped in a way that I'm writing with my right hand and holding myself in place with my left. I hear the gross cawing of white crowned crows scavenging for dropped popcorn or bread crumbs. You know how I feel about that. There's also the clanging of pans, singing and chatter of porters preparing breakfast and about five other languages coming from other coughing hikers.
The tent is mine alone and I'm grateful. I have the back open now and can see the mountain herself through the crack. This is day five and she's been hiding behind clouds almost all the time except for early mornings and after the sun goes down.
I can also see my breath. As for smell, it's cool clean mountain air. The kind that fills your lungs and send euphoria to your brain."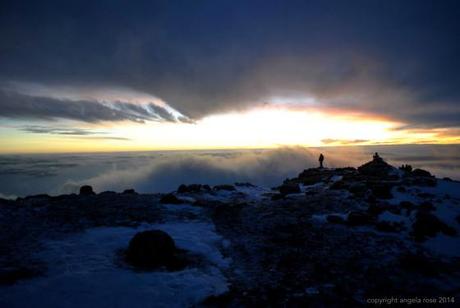 "The fog has been chasing us everyday. It moves in and out faster than I've ever seen. When it's in, I can see nothing. No mountain. No valley of the city, Moshi, below. The mystery it brings will make the summit that much more spectacular – the place that sits above it all. We leave tonight at 12am. I'm no longer nervous. I'm not anxious. I'm ready."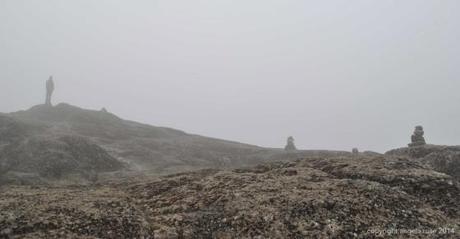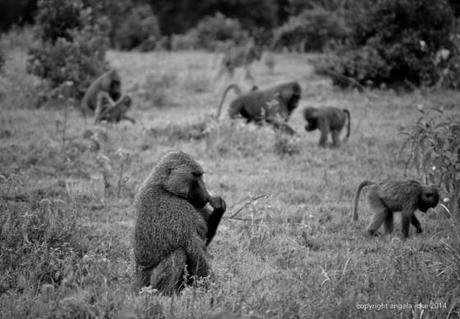 "I wonder if some people go all their lives without feeling what I feel on a mountain. It's difficult to describe- purpose, peace, determination, safety shadowed with potential dangers, overwhelming assurance that this is right. This is good. This is life."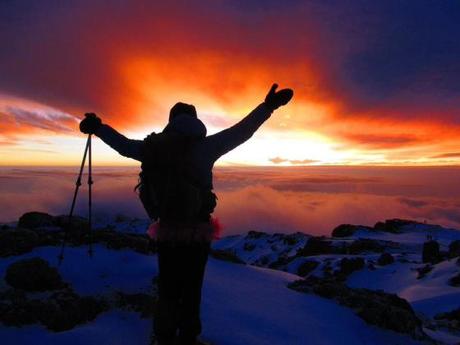 Kilimanjaro is a snow covered mountain 19,710 feet high, and is said to be the highest mountain in Africa. Its western summit is called the Masai "Ngaje Ngai," the House of God. Close to the western summit there is a dried and frozen carcass of a leopard. No one has explained what the leopard was seeking at that altitude. – ernest hemingway