GUEST POST:
I was on the lookout for a lunch buffet promo online for my husband's (Mr. Savvy's dad) birthday when I chanced upon La Fiesta Largest Filipino Buffet. I googled it and I was intrigued by seeing sushi, pasta and other non-Filipino dishes being offered.
Off we went to the venue along MOA to celebrate! Unknown to us, they also had that 'Celebrate your birthday for 7 days' promo. It's already looking pretty good. I like the ambiance and the neat, spacious environment. They just opened June of this year so I hope they keep up the maintenance of the place.
There was a band playing good OPM music but our kids wisely chose a table not too near the live music. That way our conversation will not get drowned. To add to the Filipino feel, there was a Mamang Sorbetero going around pushing the 'dirty' ice cream cart. You can call him anytime to serve you a scoop or two in a cone.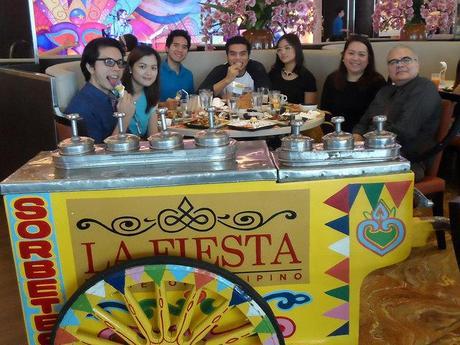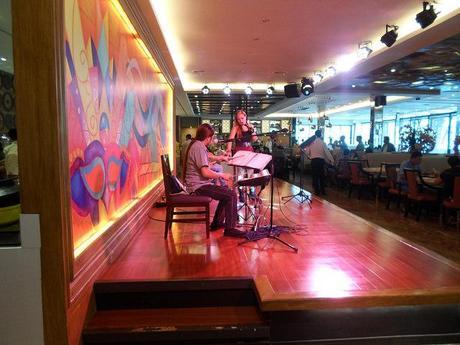 I toured the whole buffet spread from appetizers to dessert before I made my choice.  This is the way to go to avoid regrets (hehe).
They had a lot to offer: streetfood like fishballs, kikiam, isaw, betamax with different sauces and dips, pizza and pasta, sushi and very limited sashimi, Filipino classics, Chinese dimsum and some dishes, shawarma station, barbecued meats, rolled lechon and other meats, seafood station including Paella Marinara, juices and shakes station, desserts local and international, coffee and tea.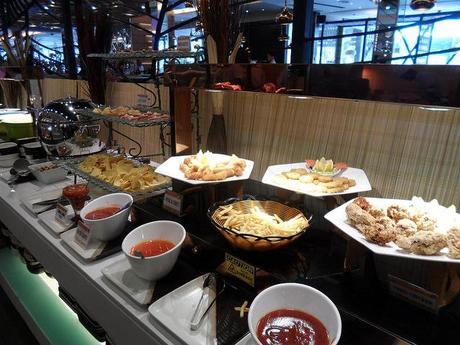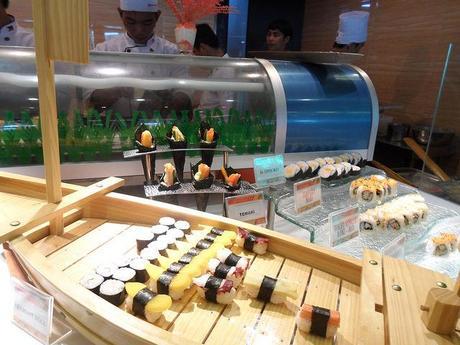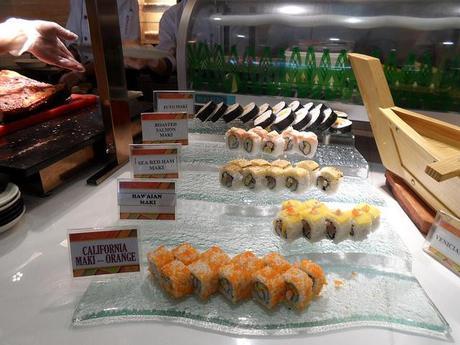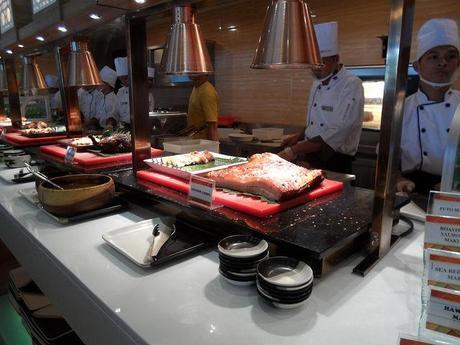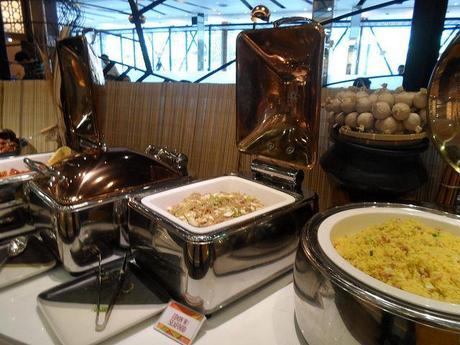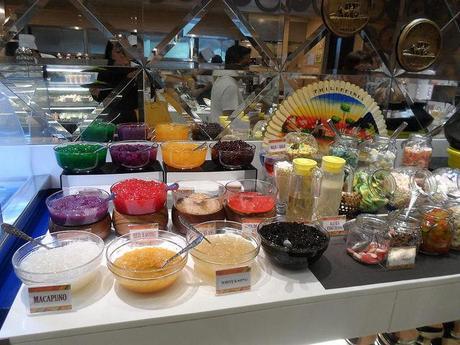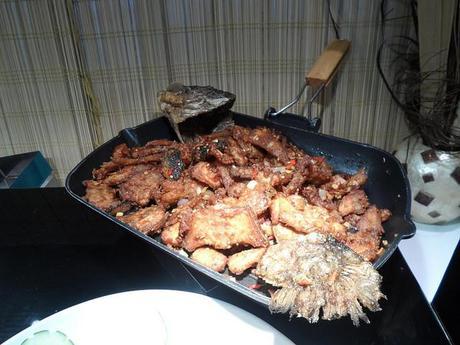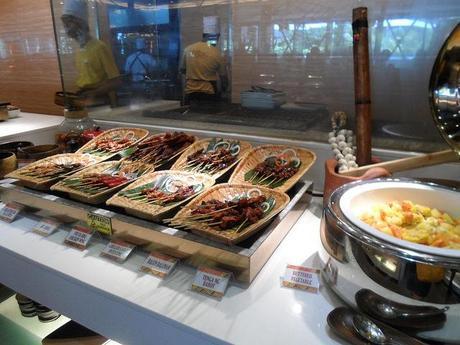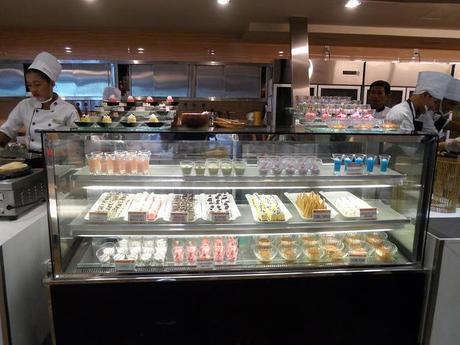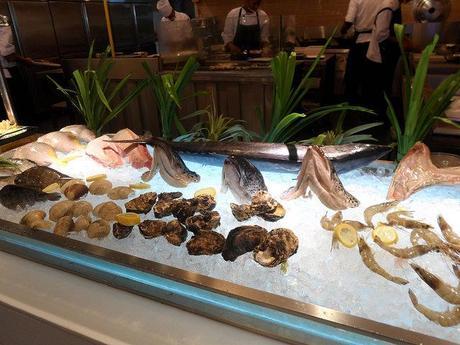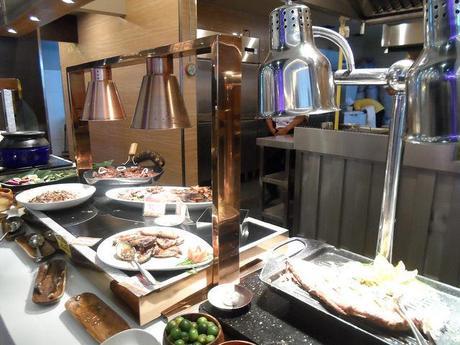 It is not humanly possible to sample all of them but I did try my best.
First I saw were sad one-day old chicks and I ask, "Why???" It was together with the sisigs.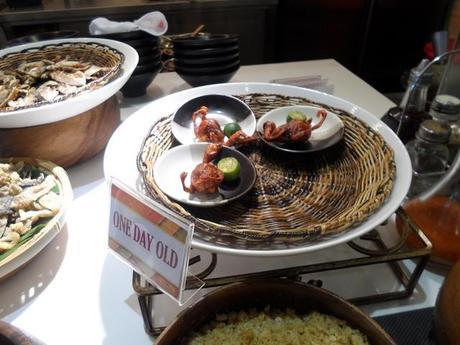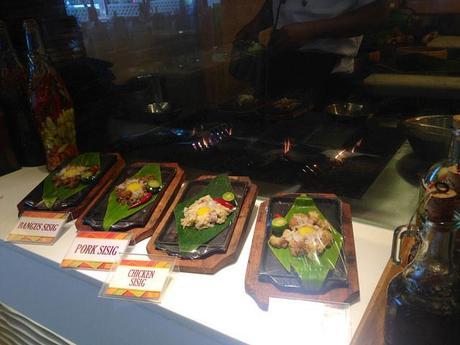 I started off with Ceasar Salad, California Temaki and thin crust pizza. I was not too impressed but the pizza was quite good. I would have had more pizza but that would mean the end of my buffet adventure.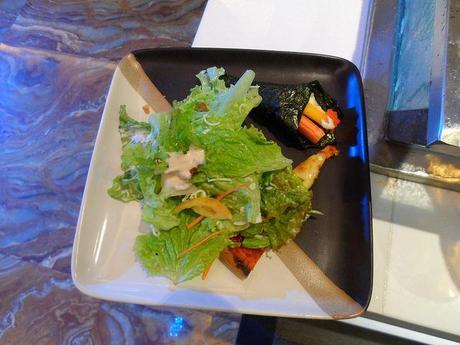 The Dinuguan was a standout for me. It was really dark, a bit oily and meaty just the way my hubby Ricky and I like it.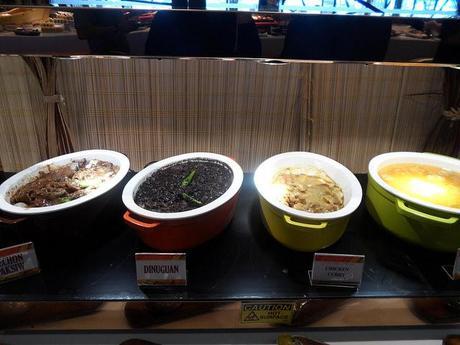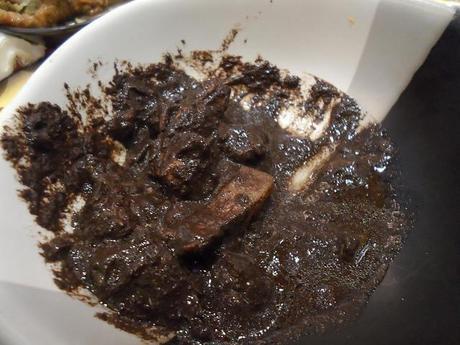 The Kare-Kare, a childhood favorite of mine, was not well-represented. It was too pale and the flavor was more starchy than peanuty.
The spicy shrimps were well seasoned and spicy. They were fresh as the shell peeled off easily.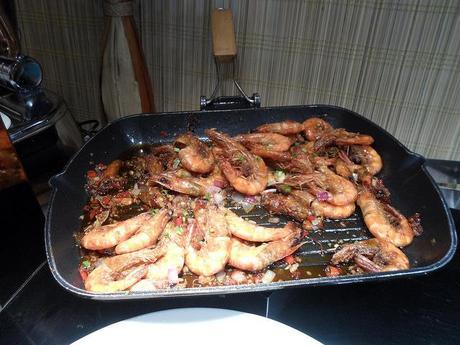 I got one of those halved mangoes on a stick in a jar of water and I spread some pale-looking bagoong alamang on it. I had to instinctively close my eyes as I savored every morsel of the bagoong. It was the best I ever tasted. It is not salty as one would expect but more of the shrimp flavor and well sauteed too.
The durian ice cream was, literally, the bomb. The smell was strong to those nearest me and they inched away from me a bit. Haha. It tasted so good and creamy though like the real fruit which I have learned to like, thanks to my Zamboanguena friends.
Over-all, it was a very pleasant experience. It felt good to be a Filipino with our diverse heritage and culture being showcased in La Fiesta.
One thing I know, it won't be my last time there. I might have to heed the call of their savory Dinuguan in the very near future.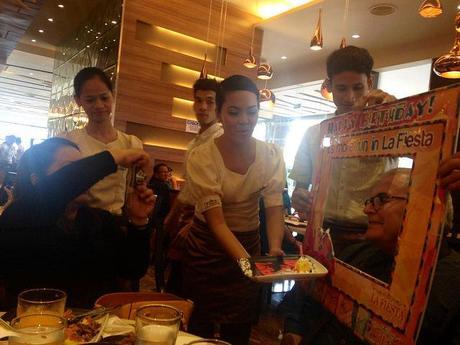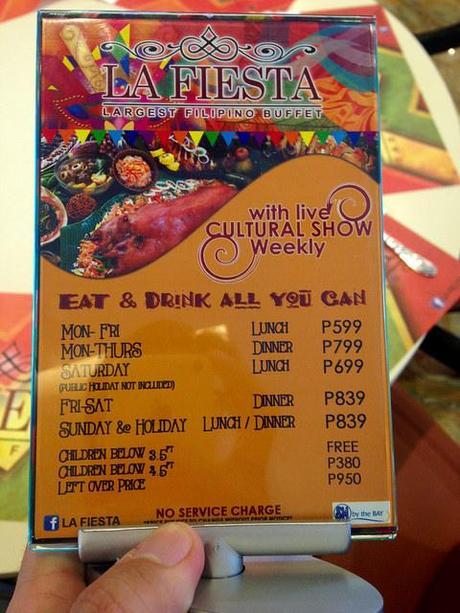 - Ellie
LA FIESTA LARGEST FILIPINO BUFFET
Mall of Asia Complex (MOA)
One Esplanade, Jose Diokno Boulevard,
San Miguel By the Bay, Pasay City
(02) 556-1111, (02) 556-1222, (02) 556-1333
Operating Hours:
11:00 am - 3:00 pm
5:30 pm - 11:00 pm
Facebook: La Fiesta Largest Filipino Buffet
View Larger Map