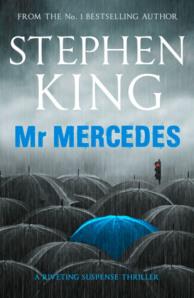 What's it all about?:
In a mega-stakes, high-suspense race against time, three of the most unlikely and winning heroes Stephen King has ever created try to stop a lone killer from blowing up thousands. In the frigid pre-dawn hours, in a distressed Midwestern city, hundreds of desperate unemployed folks are lined up for a spot at a job fair. Without warning, a lone driver plows through the crowd in a stolen Mercedes, running over the innocent, backing up, and charging again. Eight people are killed; fifteen are wounded. The killer escapes. In another part of town, months later, a retired cop named Bill Hodges is still haunted by the unsolved crime. When he gets a crazed letter from someone who self-identifies as the perp; and threatens an even more diabolical attack, Hodges wakes up from his depressed and vacant retirement, hell-bent on preventing another tragedy. Brady Hartfield lives with his alcoholic mother in the house where he was born. He loved the feel of death under the wheels of the Mercedes, and he wants that rush again. Only Bill Hodges, with a couple of highly unlikely allies, can apprehend the killer before he strikes again. And they have no time to lose, because Brady's next mission, if it succeeds, will kill or maim thousands. Mr. Mercedes is a war between good and evil, from the master of suspense whose insight into the mind of this obsessed, insane killer is chilling and unforgettable.
What did I think?:
Mr Mercedes, the latest release from Stephen King at the time of writing, sees the author dabble in the world of crime fiction which he accomplishes very well but I may be ever so slightly biased being a huge fan. Does it stand out amongst other books in the genre? Well, yes I think it does, mainly due to the strength of characters that King creates. Our main character is a police detective called Bill Hodges who has recently retired but is not really enjoying or making the most of all the free time he now has on his hands. Bill is overweight, bored, depressed/positively suicidal and haunted by one of his old cases which remains unsolved. This is the case of the Mercedes killer who killed/seriously wounded a number of people waiting in line for employment as he drove a Mercedes car right through them and managed to escape the scene, leaving behind just a clown mask. Unfortunately, the killer doesn't seem to be done yet and in a taunting letter to Hodges, threatens to carry out a deed with even more carnage and impact than you could ever imagine. The good thing about it this is that it gives Hodges a well needed kick up the backside to hunt down the killer and try to prevent another massacre from happening.
We, the Constant Reader are let in on the secret of who the Mercedes killer is, of course which proved maddening for me personally as I found myself willing Hodges to "Look over there! Don't do that! Watch out! (he's behind you….) Sounds a bit like a pantomime, sure but believe me, this is one "baddie" you're certainly going to love to hate. His name is Brady Hartfield, and he has some serious issues going on. He lives with his alcoholic mother, has a tragic back story, is completely doo-lally and works two jobs, the first in IT where he is called out to repair home computers and the second driving an ice cream van. Both are very convenient for him so that he can interact with certain individuals while maintaining a relatively low profile. Hey, is anybody going to suspect the guy selling children some ice cream? But this guy is no Child-Catcher, he's worse. After pushing all the right buttons and getting a response from Bill Hodges, they communicate on a regular basis through a chat site where he cannot be identified. He got a little taste for murder as the Mercedes killer, but it's been a few years and he can feel the hunger coming back – a hunger that will only be sated by causing even more damage to as many people as possible. So can Bill Hodges unmask the villain this time? Can he foil the Mercedes killer's dastardly deeds?
Of course I'm not going to answer that question, you'll have to read it and find out! I highly recommend this novel, for fans of the big man's work and also for newbies who haven't discovered his magic way with words. King does a wonderful job of making his characters so memorable and there are some damned fine ones here – the evil Brady Hartfield aka Mr Mercedes, Bill Hodges and a vulnerable woman turned crime-fighter called Holly are favourites for me. Each one is written in such a way that you feel you really know them and could meet them on the street the next day. (Except for Brady Hartfield – if you met him you should just RUN, okay?) The tension builds up to almost unbearable levels as the plot reaches its climax, but this novel is definitely action-packed throughout. There is never a dull moment, and even some shocks and surprises just to keep us on our toes. Mr King, you've done it again. I bow down to you…
Would I recommend it?:
But of course!
Star rating (out of 5):