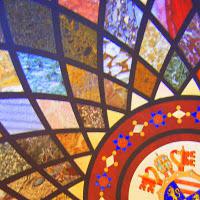 It's no secret that Mr Darcy's first name is... ah... maybe it is a secret; because even avid  fans of Jane Austen's "Pride and Prejudice" have to think a moment, or look it up.  (I'll tell you at the end of the post what his name is so you have time to remember!)
I recently had a dream (it's work-safe fear not); that Mr Darcy, Mr Rochester, and Heathcliffe all met for a dinner party.  They were all standing around the smoking-room fireplace chatting about things in a manly-man way, while in the sewing-room (grrr to old-fashioned distinctions) Elizabeth Bennet, Jane Eyre and Cathy Earnshaw were equally 'chatting' away.  Once you get the image in mind, it's oh-so irresistible to wonder what each set of people would converse about... now bring them all to the dinner table and invite yourself to the end of the table to partake of roast quails and spinach and dinner-talk.
Make the meal even more memorable, and let Jane Austen, Charlotte Bronte, and Emily Bronte to the table, and wow, now you really want to push your plate aside and just listen.
So it got me thinking about amazing dinner tables (like the one I photographed in the Vatican) and of course about party theme ideas.  Lists of creative party themes should include an Austen-Bronte Dinner Date.  There are some 10 books you could draw inspiration from, the titles, places, people, plots; all could become motivation for party decorations, keepsakes, and more...
So then; who would win in your opinion, in the best of men stakes; wild Heathcliff, fiery Rochester, or proud Mr Fitzwilliam Darcy?  Do tell!
PS - I also found a "
personality quiz
" that tells you which of Jane Austen's heroines you're most like.  Turns out I'm most like Elinor Dashwood, from "Sense and Sensibility" who embodies the 'good sense' component of the title.  
What about you?