I'm a last minute participant in the Worst Movies Ever blogfest, but better late than never, as the White Rabbit would say if he were an optimist!
You know what pisses me off?  That bad movies get made.  Not just sometimes but often. Madd often.  Why the BLEEP didn't these people get BLEEPING rejection letters?! Can somebody answer me that?!
Money.
Well, here's my open letter of rejection, regecting those movies that made me go R U FOR SERIOUS and yet give me a glimmer of hope that if absolute garbage can get made, maybe I, too, will one day shine on the big screen.
Probably not, though.
SPOILER WARNING: Some plot points WILL BE REVEALED! Read at your own risk, stay out of the water, etc!
Also, just want to reiterate that this is just in good fun, no intention to offend or anything; I like many a movie others would gag at, that's the beauty of diverse opinion.
And in my diverse opinion, these movies are crap.
Anywho, my nominees are:
1.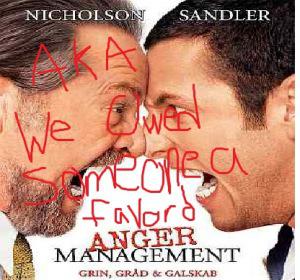 Anger Management
The movie poster I did not doctor in any way, shape or form says it all!
Fine, I doctored it a little bit.
First of all, this movie makes me want to kick a tree. Because it stresses me out. If you've seen the movie, you know why.  If you haven't, please just read a book.
(Don't worry, I didn't kick the tree.  Because afterwards I would be overcome with feelings of guilt and buy the tree whatever it wanted.  And also, my foot would hurt.)
Second of all, it's too long.  I started watching it when I was in HS and JUST finished it last week.  Okay, that didn't happen, but after I watched it I felt like Robin Williams and Bonnie Hunt from Jumangi when they had to go back to being kids after living a lifetime as adults.  Know what I'm talking about? Good.  Don't? Watch that movie immediately.
Seriously, what are you waiting for?
Thirdly, just because you're Jack Nicholson doesnt mean you're immune to making a bad movie. It happens, especially if the writing is bad.
THE WRITING IS BAD.
Redeeming Factor:
The End.  No really, it had a cute ending that if it wasn't a million hours I might've appreciated. Maybe.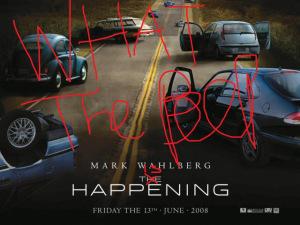 2.
The Happening
aka Any of its working titles,
Is this Really Happening?
Why Are We Making This Happening?
Does Anyone Know What is Happening?
She'll Be Coming 'Round the Mountain Oh Really When is that Happening?
Things I wanted to say to M. Night Shamalamadingdong as this movie was Happening:
Really?
Seriously?
No.
Why?
Reedeeming Factor:
Drinking game. Done.  Literally, every time somebody says Happening, take a shot.  Every time Zoey Deschenal and Mark Whalberg look wide eyed into the distance, take a shot.  You're welcome.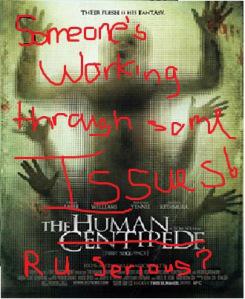 3.
The Human Centipede
Or, as I like to call it, Someone's Working Through Some Issues.
Seriously, it's disgusting.
Not only is it disgusting, which is essentially what it was made to be, but it has weak characters, a shallow plot and absolutely no redeeming value.
Not only is it disgusting, has weak characters a shallow plot and no redeeming value, but it smothers puppies and eats dreams like they're licorice candies.
Someone's gotta get a therapist on speed dial.
Reedeming Factor:
Any movie that smothers puppies should be sent away to the place in Eternal Sunshine where they erase minds and stuff so that it never exists.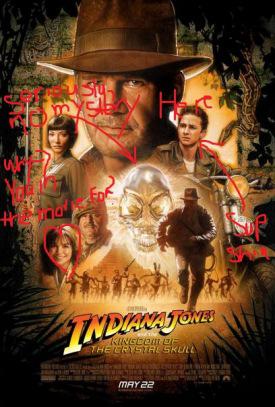 4.
Indiana Jones and the Kingdom of the Crystal Skull
, or as I like to call it, You couldn't come up with something better than aliens and nazis?
Did anybody else watch this movie going WHY!
And also, the special effects? Not so special.
And also, Shia Lahoweveryouspellhisname? Not that great.
And also, really? Really.
And was it just me, or were we missing an actual Kingdom? I think we were. I think we just arbitrarily threw a word into the title to make it have a couple of extra syllables.   But I don't know, I was too busy crying into my popcorn, mourning the loss of a great trilogy due to the birth of this bastard son.
Redeeming Factor:
Karen Allen.  She was all adorable and "Yeah, I'm doing this movie, what's it to you?" Love her.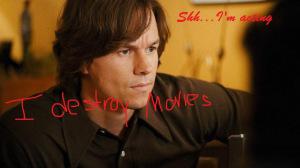 5. The Lovely Bones
It was SO GOOD until Mark Whalberg came on screen.  I also have a prejudice against Mark Whalberg, but especially when he's got his acting face on.
Observe it.
Redeeming Factor:
I thought the beginning of the movie was great. Oh and STANLEY TUCCI IS A BOSS! But only acting, not that character.  That character is the opposite of a boss.  He's a Gross.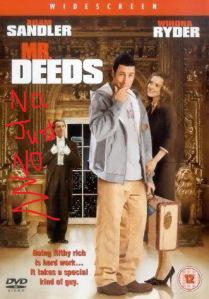 6.
Mr. Deeds
Did anybody actually watch Mr. Deeds besides me and Adam Sandler's mom?
Redeeming factor:
The commercials were funny.  That's how they got me.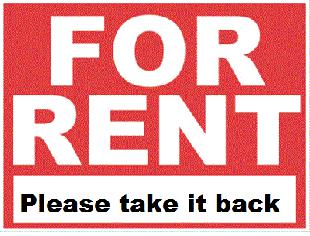 7.
Rent
Chris Columbus DESTROYED this.  Seriously, it's a freakin musical, nobody wants to listen to DIALOGUE THAT RHYMES.  It's awkward and WEIRD.  Adam Pascal wouldn't just walk around rhyming like he's freaking the Cat in the Hat, he'd rock OUT!  Like they're supposed to do!
Because its a musical, nobody's going to go to the musical and say,
Hey, Tom, isn't it weird how all of these people are singing instead of speaking?
Yeah, Bob, I was just wondering why they weren't speaking in rhyme.
ARRRRRGH THIS MOVIE MAKES ME NEED TO SIT IN A DARK ROOM, PUT ON MY SUNGLASSES AND LISTEN TO SLAM POETRY
Redeeming Factor:
If only.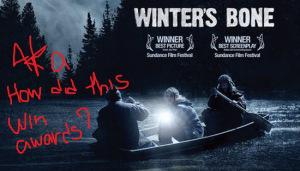 8. Winter's Bone: A Title Too Good for "The".
This movie is great.  There are lots of long establishing shots that establish boredom and realistic sounds of boots crunching gravel.  You want to see a girl get beat up? You'll have MULTIPLE chances to in this film!
It takes place over the course three hours of your life you'll never get back.  It's about a girl who needs to saw off her father's dead hands in order for her and her family to keep their shack.  SPOILER ALERT she does it!
Favorite line? "Come on, hun, you gotta do the other one, they'll say you stole the one from a corpse". Flawed logic? Just a bit
Redeeming Factor:
The End.  Seriously, never been happier to see end credits roll.

Well, I'm exhausted.  And I wrote this in a little bit of a rush so as to publish this before midnight (WIN!), so I apologize for the messiness, but I will edit it tomorrow. And then this statement will magically disappear.
Good night, folks!
ROLL CREDITS