When you're a writer, there are many quotes and phrases that people will fling at you like they're a really witty metaphor going out of style.  Some of my favorites are:
"When at first you don't succeed, write write again!" – people who think they're being helpful but are really just being irritating
"Anything Stephen King says!" – because he has a million of them (just like his novels HEYOOO)
"The first draft's always shi REALLY NOT GOOD" – paraphrased from the original, more vulgar saying by Ernest Hemingway because my mom reads this blog (hi mom!)
But there's one phrase that's always bugged me, and that is "Sometimes you have to kill your darlings".  This is, of course, referring to the point in the editing process in which you discover that you have to cut a scene or paragraph or chapter you absolutely LOVE for the betterment of all mankind your piece of writing.
But the phrase killing your darlings always made me think of this: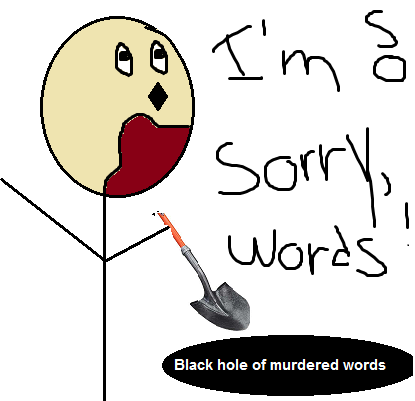 And this: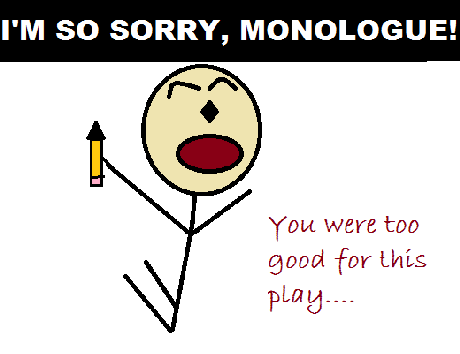 BUT, you do sometimes have to get rid of the first words you've written or your favorite piece of writing for the sake of the whole.  BUT that doesn't mean that they'll be gone forever and always- not at all.  SO instead of a phrase implying bloody word murder, I think I'll say "
Sometimes you have to regect your darlings
".
In order to prep for my workshop/reading TOMORROW (I'm not nervous or lying AT ALL), I had to do a lot of prep work on the script.  And I had to get rid of a monolog that started it out.  The first words I ever penned in this play's creation had to be ZIP ZAP ZOPPED out (any theater people get that reference?)
If only there was a place this monolog could still be seen…where it could be read by people I respect and care about…a public forum like a newspaper or…or like a blog…
OH LIKE THIS ONE!
Raise your hand if you saw that coming!  I realized that I've never actually shared any of my actual writing on this blog yet, so I figured I'd put my regected darling on here for all to read.  So you can know I can actually write.  Like real stuff.  Like for realz.
So, without further ado, I would like to present the monolog :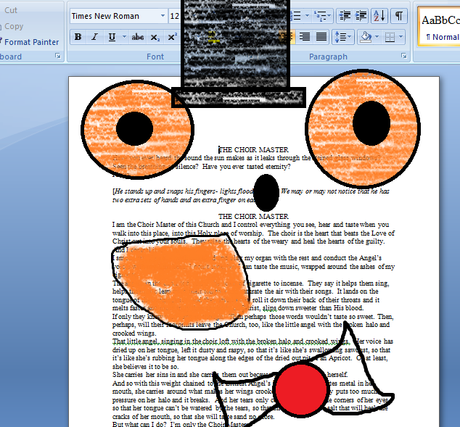 WHAT, no, take off the top hat and bowtie, Mister Monologue, you're just being ridiculous now.
Here it is:
THE CHOIR MASTER
Have you ever heard the sound the sun makes as it leaks through the stained glass windows?  Seen the breathing of silence?  Have you ever tasted eternity?
I have.
[He stands up and snaps his fingers- lights flood the loft.  We may or may not notice that he has two extra sets of hands and an extra finger on each]
THE CHOIR MASTER
I am the Choir Master of this Church and I control everything you see, hear and taste when you walk into this place, into this Holy place of worship.  The choir is the heart that beats the Love of Christ out into your souls.  They raise the hearts of the weary and heal the hearts of the guilty.
And I control it all.
I smoke my cigarette with one hand and play my organ with the rest and conduct the Angel's voices with my bald head. I don't sing, but I can taste the music, wrapped around the ashes of my cigarette.
The angels in the choir loft prefer the scent of cigarette to incense.  They say it helps them sing, helps the music leap from their tongues and saturate the air with their songs.  It lands on the tongue of the congregation and they swallow it, roll it down their back of their throats and it melts faster and more truly than the body of Christ, slips down sweeter than His blood.
If only they knew who sang it, though.  Then perhaps those words wouldn't taste so sweet. Then, perhaps, will their footprints leave the Church, too, like the little angel with the broken halo and crooked wings.
That little angel, singing in the choir loft with the broken halo and crooked wings.  Her voice has dried up on her tongue, left it dusty and raspy, so that it's like she's swallowing sawdust, so that it's like she's rubbing her tongue along the edges of the dried out pit of an Apricot.  Or at least, she believes it to be so.
She carries her sins in and she carries them out because she won't forgive herself.
And so with this weight chained to the Littlest Angel's heart so that she tastes metal in her mouth, she carries around what makes her wings crooked and all that energy puts too much pressure on her halo and it breaks.  And her tears only collect and dry in the corners of her eyes so that her tongue can't be watered by the tears, so that she can't taste the salt that will heal the cracks of her mouth, so that she will taste sand no more.
But what can I do?  I'm only the Choir Master.
—–
So next time you realize you have to get rid of that stroke of brilliance, know you're not killing them – you're just putting them somewhere else for a little while.