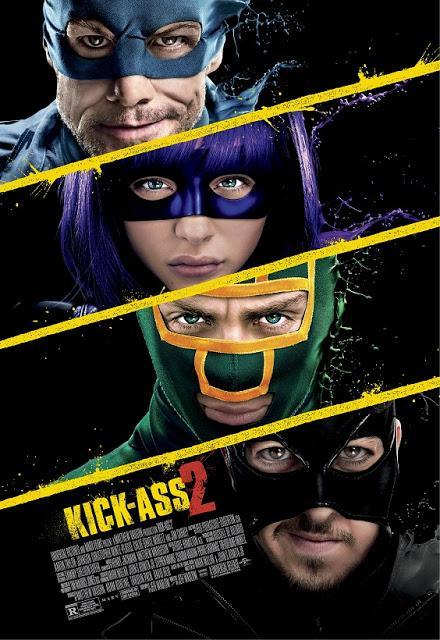 Image from here.
We're the good guys.
Following the events of the first movie, the tale of our very realistic superheroes Kick-Ass and Hit-Girl continues here. The fame of Kick-Ass has become widespread and he has become more than just a celebrity, he has become an inspiration. Masked vigilantes are out on the streets delivering justice with different "powers" and different costumes. This also causes more than just cleaner streets though, because it also paved the way for the world's first super-villain, The Mother F*cker (that name just cracks me up), played by Christopher Mintz-Plasse.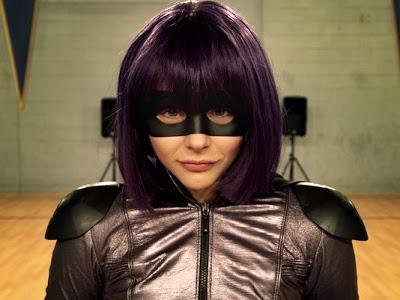 Image from here.
As usual and as expected, Hit-Girl steals the whole damn show. In pretty much every way, she kicks Kick-Ass's ass. There is a bigger focus on her this time around with and without the mask, and that's definitely a welcome change. Chloe Grace Moretz truly makes Hit-Girl come alive onscreen. Move over, all other female action heroes! Am I officially allowed to say Chloe Moretz is becoming my Hollywood crush? No? Okay, I'll shut up now.
The movie is a lot of fun and has more than its fair share of interesting main and supporting characters. Everything is on a bigger scale and it's slightly more vicious than the first movie. There is definitely no lack of comedy and there wasn't a boring moment in the film. One of the brilliant aspects of this movie is none other than one of my favorite comedians, Jim Carrey.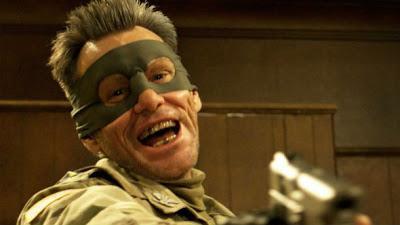 Yeah, there's a dog on your balls! Image from here.
The character Colonel Stars and Stripes is a huge departure from the usual zany characters of Carrey because this one is definitely bad-ass. I barely recognized this guy the first time I saw him. He is able to pull off a character that isn't within his normal persona, but is still as entertaining as The Mask, Ace Ventura, and The Riddler. This is definitely a memorable character to add to the long list he has brought to life.
Other Notable Cast:
John Leguizamo as Javier - Luigi!!! Does anyone remember that movie?
Donald Faison as Doctor Gravity - Always great to see Turk from Scrubs.
Iain Glen as Uncle Ralph D'Amico - Ser Bad-ass Jorah Mormont of Game of Thrones.
Lyndsy Fonseca as Katie Deauxma - Ted's daughter shows up again in the sequel.
Verdict: 4.5/5 -
 It isn't the deepest of movies, but there's something simply awesome about the fun, the humor, the action and the heart of this movie. and yes, Hit-Girl!
Loved Kick-Ass 2? Hated it? Let me know by commenting below, or just
tweet
me!

The First Movie:
Movie Review: Kick-Ass
Here's the trailer!