A place that falls under the 'Street Food' category, but still serves food that is way better than so many fine dine/casual dine places popping up each day. But so is the case with most street food eateries anyway.
This humble little joint is situated bang opposite Khandani Pakode Wale in Sarojini Nagar, and serves some of the best kulchas you can find in Delhi. A small board that has the menu is kept in the shop. You can see the prices there and place your order. With a couple of tables kept outside, they don't have a seating per se, but just tables where you can relish your food. 
Their Kulchas are crispy as hell, with a very hearty filling inside, and topped with oodles of butter making it super delicious! Served with chhole and onions in imli ka pani, the kulchas as very heavy. One kulcha is enough to completely fill up a person with a mediocre appetite. The stuffing is so beautiful that it makes me salivate just writing about it. Their Paneer Kulchas are my favourite, with a close runner-up being Mixed Kulcha that has a stuffing of carrots, beans and potatoes. Very very flavourful. You will of course also get the basic aloo ones here, that are also gorgeous!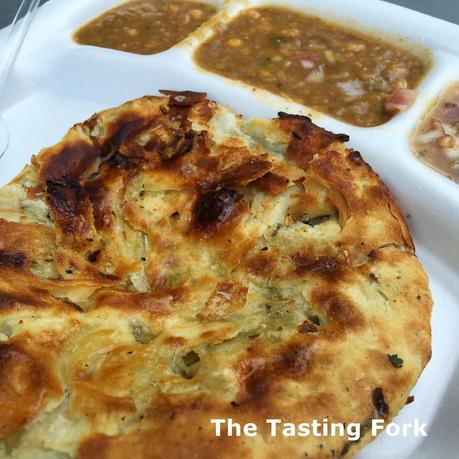 A phenomenal place for stuffed kulchas! They don't pack single kulchas, so you will have to take a minimum of 2 pieces even if you don't have the capacity for it. While having kulchas there itself, they will give you unlimited helpings of chhole and imli with onions, and relishing piping hot kulchas is how it should be.
A must must try for people who love food and don't care for the surroundings/ambience.
Address: Shop no.144, Ring Road Market, Sarojini Nagar (Opp. Khandani Pakodewala)
Connect with me on:
Twitter: @sahibagursahane
Instagram: @thetastingfork
Facebook: www.facebook.com/thetastingfork