Today is the running of the 2015 Boston Marathon.  The eyes of the running world are on this city and it's prestigious race.  Each runner today worked very hard to get there - whether through a qualifying time or raising money for a charity.
Among the numerous inspiring stories of the athletes running today, there is one that is getting little fanfare - but he should.  Maickel Melamed is from Caracas, Venezuela, and although he is well known through the Latin American press, there is very little of him in the mainstream North American media.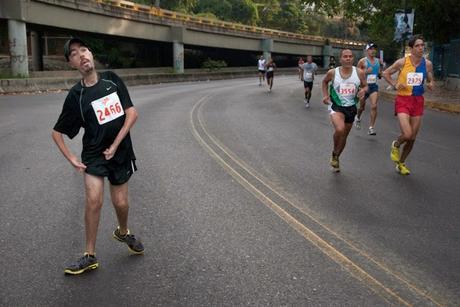 I started following Maickel Melamed while he was running the 2013 Chicago Marathon. He  has run some of the world's most prestigious endurance events.  In fact - he set out to run The Big 5.  What will surprise you - are his finish times.
New York

 (2011) 15:22

Tokyo (2014), 14:30; DNF at mile 22
Born with hypotonia - a state of low muscle tone, even the most routine physical acts like walking are a struggle for Maickel.  The fact that in 2011 he set out to run the most prestigious and well-known marathons in the world, and has been accomplishing this, is nothing short of miraculous.
Maickel was born with his medical condition, and he has not let it stop him from achieving professional and personal successes. He is an economist, a professor, a motivational speaker, and when he decided to climb a mountain, he climbed the highest mountain peak in his native Venezuela.  He doesn't do things on a small scale.  This guy DREAMS BIG and LIVES BIG. So deciding to run these world class endurance events - he chooses to be among the best and fastest athletes. He chooses to do what they do - to show that anyone can work hard and accomplish their goals.
None of these things come easy.  I've watched the live stream of some of his races. It is heartbreaking when he falls down.  He has been hurt many times, but he perseveres.  It is incredibly emotional to see him approach that last mile and home stretch.
Founder of Proyecto Vamos! (translation: Project Let's Go!), Maickel reminds us all that there are infinite possibilities in life.  And he inspires and leads people from all walks of life to embrace those possibilities.
You can check out this brief video to see more about him.

Like the other runners, Maickel trains year round for these events. Like the other runners, he has tremendous mental determation. 
And like every runner in Boston today - Maickel motivates us with his determination and will.  We send our hearts and best wishes to all the runners this morning - and long after the elites, the fast, the mid-pack, and yes, even the back of the pack comes in, Maickel will still be out there - putting one foot in front of the other.
I can't wait to see him finish!
You can follow Maickel today on
https://www.facebook.com/maickelmelamed
https://twitter.com/maickelmelamed
(Sorry his social media is in Spanish, but Facebook does have a translate option.)
~Run Happily
DisneyBride