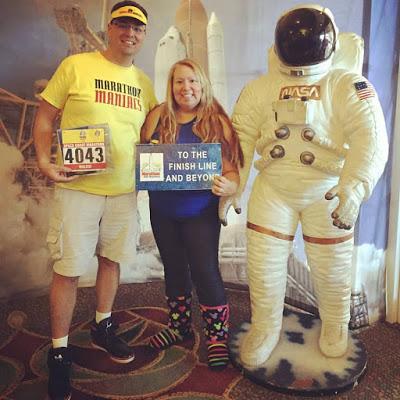 DG:  
My training has been going pretty well this season.  So a couple of months ago, I decide to make the Space Coast Marathon my A race.  The course is flat, the weather in late November is typically good, and I didn't have any big races before Space Coast.
Saturday
DB: We followed our traditional pre-Space Coast Routine again this year.  After waking up early, dropping off the dogs at the vet's office, and picking up the rental car we got on the road to Cape Canaveral.  It's a bit over 4 hours and we arrived just in time for lunch.  I used to live in Brevard County in the late 90s, and I had a favorite falafel spot. A very tiny little - blink and you miss it place:  Sinbad's.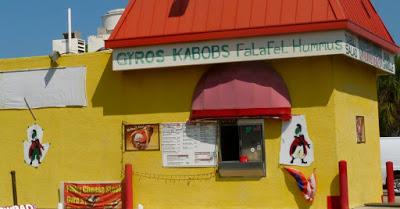 Yep,

t

he logo on their sign looks like Aladdin.  Maybe this was what originally piqued my interest in this place. I do love me some Aladdin.  But I love falafel even more.  And theirs is FANTASTIC. They add pickled red cabbage - and it is heaven.  Really.  This is the third year in a row that we've been coming down for this race, and the falafel meal  at Sinbad's has now  officially become a pre-race tradition.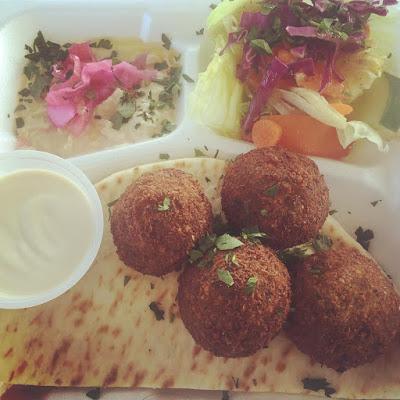 DG: Arriving later to the expo is not without some advantages. The lines are not bad to pick up your packet.  In just a couple of seconds DisneyBride and I both had our bibs.  The only long queues were in the Space Coast Marathon merchandise tent.  I am so glad that a friend of mine picked up my Tervis tumblers that morning.  It has become my tradition to collect them when they are available for races. These sell out quickly and were already gone when we made our way through the booth.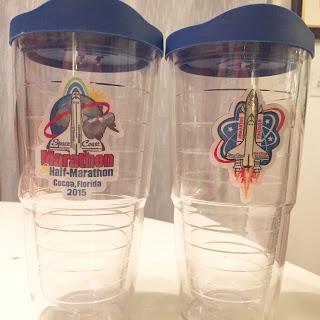 I love my Tervis Tumblers! 
On the way out, we took the astronaut photo (up top) and headed to meet some friends.  I really wish they would move the statues somewhere else.  It makes it confusing on the way into the Expo with everyone crowding around for photos.  It just seems to keep people from being able to leave and prevents people from entering. 
Race Day (Sunday -
Nove

mber 29, 2015

)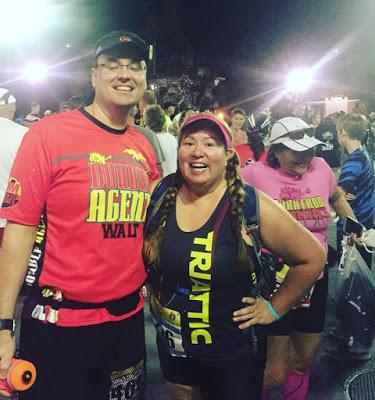 Y

ikes - what a scary photo!!! 
Pre-race - Yep - we woke up at

4am!
DG

:

With the goal of setting a PR, I left the big hydration pack and mobile phone behind.  Yep - except for my Garmin, I ran 'n

aked'.

After a quick shower, a PB and J, and some Mountain Dew we were off for the start line.  With a bathroom break and some catching up with friends, DisneyBride was off for her race.  The half marathon starts 30 minutes before the full. A kiss and wishing each other luck, she headed for the corral. 
First Half
After the countdown start, we were off!  The weather at the start was perfect.  Nice and cool (relatively) and the humidity was manageable.  However, the crowding on the course seemed to be far worse than in past years.  Not only on the first half of the course, but the entire course.  My 1:1 intervals felt great, and I was right on pace for what my training runs had shown was possible.  As I approached the half way point, a very light rain started to fall.  I crossed the the mid-point right on time!
Second Half
How quickly things change.  The temperature quickly rose, according to my watch topping out at 88 degrees.  My pace plummeted and just finishing the race became the goal.  I felt like I slowed to a crawl.  I was not alone, it seemed like the heat was really hurting runners all around.  The heat was brutal and my goal time was thrown out the window. 
Fortunately, the second half of the course features far more on-course support from spectators and entertainment.  The cool/wet towels from the Parrot Heads were amazing.  It amazing how a little heat can change what you want on the course. 
I did manage to cross the finish line with a PR.  The mission was accomplished, however, I had hope to cross it sooner.  I think it will be a while before I try to PR a marathon again, it did take quite a bit out of me.
DB: Some of you may know, I have been focused more on cycling lately, and my running has taken a backburner.  I followed a training plan but I

didn't really have high hopes for this race.  
But
I got lucky.
There were pace groups for all paces! Yep - even for me!I've neve
r run
with a pace
group before, because well - they
usually don't have them beyond a 16 m

in/mile pace.  You know -

for the
'all-

the-way-

in-back

-

of

-

the

-

back

-

of

-t

he-pack
'. Which is where I live.  But

at Space Coast this year - there was

a 4 hour run/

walk pace group.

I know - 4 hours is slow by most standards. But since th

is

course is open for 7.5 hours, I've always known I had a lot of t

ime. So

for the past few years, I've walked this race, made a lot of stops, took a lot of photos, etc - making my already slow pace

...

eve

n slower.

This year

,

I wanted to stay on

track. 

And I found this gu

y here

carrying a Jeff Galloway run/walk pacer flag.  So I joined in - had a lot of laughs along the way, and instead of goofing around, I stuck with the group and

got a PR.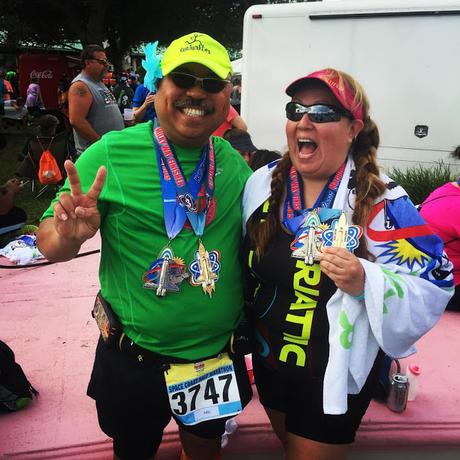 My wonderful pacer,Mel!
Since this was Year 3 of the 5 year Big Bang Series, D

G

, myself, and our friends we traveled with, all walked away with the Milky Way Challenge medal for completing 3 consecutive years.
2 big medals each. Not bad.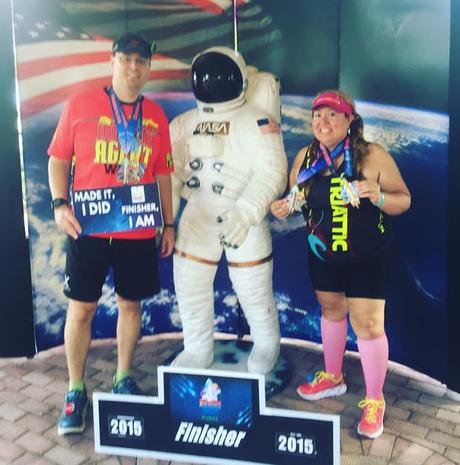 Final Thoughts
DG: We'll be back again next year.  The rest of my running crew have sworn off the marathon and vow to only run the half.  The race is perfectly placed as a great Dopey warm-up, I guess I'll see if I give into peer pressure.
The second half of the course needs more (more visible) medical support.  It was scary the number of times I was asked about where the medical tents were.  The weather never seems to cooperate with this race, it gets very hot. This is my third year running, and I have still seen no improvement in medical support.
DB: I was thinking after 3 consec

utive

years I was done with this race. There are just SO many other races I want to do on or near this

date.

But take a look at this view.  This is what you are looking at on the course. A beauti

fu

l

waterfront.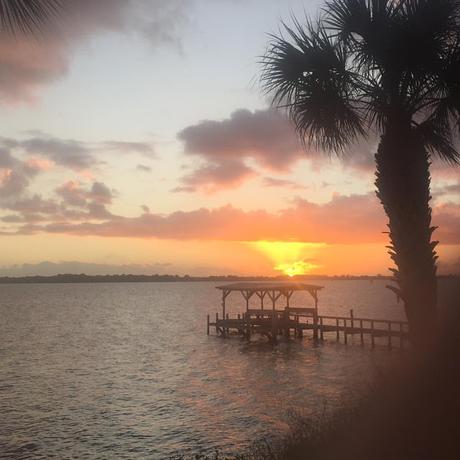 My one suggestion for improvement

: Vegan options.

This race is known for having an excellent after party.  Beyond the typical water and bagels - there

are

beer trucks, icy cold Coke products, cold O

J,

and for food: hot pizza, freshly made pancakes, and scram

bled

eggs. The drinks are fine - but as vegans -

our

food options were limited to eating a banana.  Yes, - that is all we had to eat a

t the party. 
It is very easy to make regular pizza vegan - they can just leave off the cheese and pepperoni - and leave the bread, sau

ce, and veggies

.  You can make pancakes vegan too, don't use eggs or milk in the batter.  (Bisquick is vegan. Just add w

ater!

)
I ran into http://girlsgotsole.com blogger, Shannon, a vegan we've met through runDisney events - and she has been writing th

e Space Coast RD

and asking for vegan options also.  So if you would like to see plant-based options in 201

6

, send an email to the race director. I will be doing that

myself.
So

yes, I'll be back

next year.

I do hope there are still pace groups for the back of the pack.

It made all the difference for me that day - and for many other runners in that group. 

Thankfully

DG and I

each got the

PR and did not have to go to the ER

!

After the race, we showered and

made the 1 hour drive

to our happy place. 
You guessed it!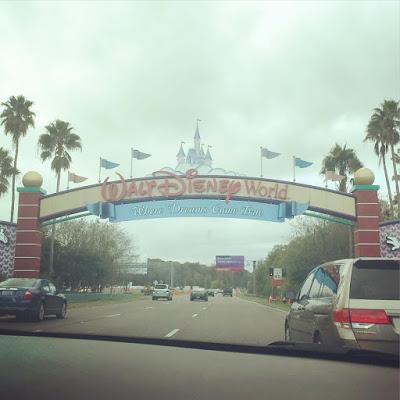 Not sure where we got the energy after waking up at 3:30 am and then running

- IN THE HEAT

, but we managed to hit all four

Disney

parks

that evening.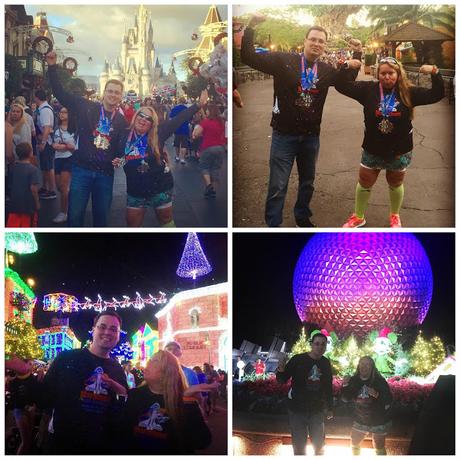 Then after the parks closed - we mad

e the 4.5 hour drive home.  
Yep -

i

t was a very long day - but a very memorable

one.
Note:
If you plan to do this

race

, keep in mind the half marathon usually sells out the first day registration opens. One

good thing,

if you have run the previous year - you

get first crack at an

early registration.