We believe in a t-shirt for every person, including Moms. So when it comes to mother's day we want to help you find the perfect most unique t-shirt for your mom. Follow our handy-dandy guide and you're sure to get mom something she'll wear for years to come.
First things first: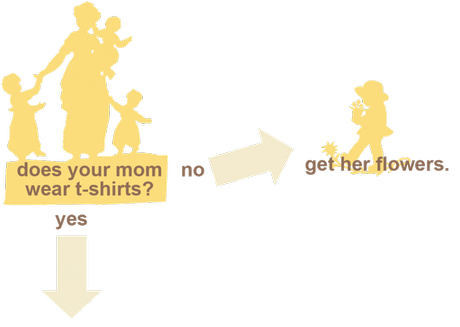 Start here:

1. Search T-Shirt Designs: type something your mom likes
favorite sport: does a basketball mom t-shirt ring true for your mom?
favorite food: would a chocolate t-shirt make your mom's eyes light up?
hobby: does your mom need a knitting t-shirt to wear to her stitch n' bitch group?
place (country, city, or state): destination t-shirts are a wonderful way to commemorate a great vacation or celebrate your home
career: profession t-shirts make great presents for people who love what they do.
2. Pick out your mom's favorite color and t-shirt style: moms really like the women's scoop neck t-shirt; it's a roomy fit, with a nice loose neck-line and it comes in five colors!
3. Place your order.
Or… Design Your Own Mother's Day T-Shirt!
1. You can choose a design you think your mom will love and click the Customize This Design button to open the design in the design tool, or start from scratch.
2. Add something personal: choose from hundreds of art files and add your own text for a t-shirt as awesome and unique as your mom!
3. Save design, add to cart (if you don't have a Fibers.com account you'll have to make one) and place your order.
Because all our shirts are made to order it takes around two to three business days to get an order in the mail and standard shipping is also 2-3 days – so order your mother's day present soon – Mother's day is May 17th.