So tomorrow is Mother's Day.  I know lots of moms want to go out, get pampered, and receive beautiful gifts. I love all of that too, but this year I just really wanted to pamper the moms in my life who would be near enough to join me for the day - my mom, my grandmother and my aunt - with a delicious brunch at my home.
My grandmother and I were recently talking about how we used to love going to high tea at The Four Seasons. The scones, the tea sandwiches, the mimosas, and yes, the little pots of tea. Tomorrow I have decided to mimick that but at home.
I bought these fun black placemats with special white pencils on which you can write your own messages, perfect for placing people where you want them at the table, but also telling them how you feel.
I bought some pretty rock candy swizzle sticks and some tea sleeves so everyone can enjoy their own kind of tea and sweeten as they like. Of course, they can also just treat the rock candy as a lollipop too!
I'll also be serving these gorgeous mimosas, the recipe and image for which I got from sarahbakesgfree.com.  It calls for prosecco and orange juice, but fresh lemon and lime juice as well. Sounds fabulous, right?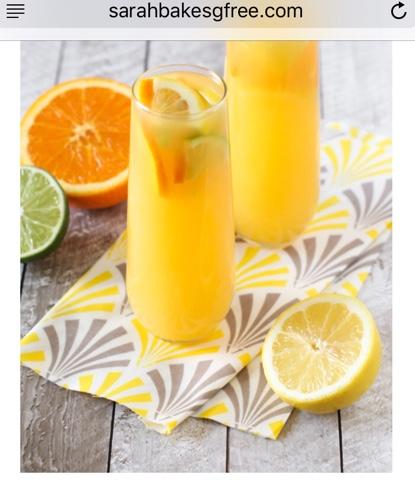 For the meal, I am making the following vegan dishes:
Cucumber, arugula and cashew cheese tea sandwichesVegan "egg" salad with carrots, celery and dill on mini sesame rollsHeirloom tomato salad with almond cheese tea sandwiches

Field green salad with homemade Dijon mustard vinaigrette

Quinoa with basil, pistachios, currents and lime juice


I am already getting hungry... Can't wait to try it all!
Wishing all of the moms reading this a happy, delicious and healthy day!