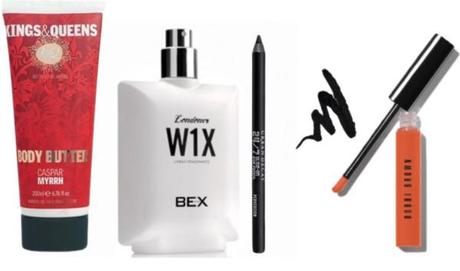 We just recently had another beautiful burst of sunshine, and although autumn is slightly in the air i'm still holding out hopes for a full blown Indian summer. My most wanted products of the month this month features a mixture of things that I feel are quite appropriate for whatever the day may bring, rain or shine!
1. Kings & Queens Caspar Myrrh Body Butter £8
A few years ago I bought the Kings & Queens Honey Body Butter and Shower Gel for my mom as a birthday present. She absolutely loves luxurious products, and so do I which is why usually end up sharing them. These body butters are really beautiful and thick with a scent that lingers, so i'm excited to try this Caspar one next.
2. Bex: W1X Perfume £81
One of my
Glossybox's
recently included a sample of this, and from day one I fell in love with it. I've somehow managed to reserve it for nights out and days when I need a pick me up because I dont want to finish the sample! As you can see from the price tag it is quite an expensive perfume but it's everything I could ask for in a scent, so it's going to have to wait for my christmas list.
 3. Urban Decay 24/7 Eyeliner in Perversion £13
I've been wearing black eyeliner on my waterline quite a lot recently as part of my daily makeup routine. The Topshop liner that i'm using at the moment isn't long lasting at all and tends to slip under my eyes, so I thought I would finally try this 24/7 liner from Urban Decay. According to many rave reviews it sits on the water line and doesn't budge, which is definitely a must for me at the moment.
I've only seen a handful of swatches for this lipgloss online but i'm eager to try it. I love orange lip colours as they lift the complexion of any skin tone if you choose the right shade. This Bobbi Brown Lipgloss will soon become a new addition to my small collection.
Leave a comment and let me know if you have any suggestions for products I should try and let me know what's on your wish list this month :-)