What is Prostate Cancer?
Prostate cancer develops in prostate, a small walnut shaped gland in men situated just below the base of bladder, surrounding the first part of urethra through which its secretion i.e. prostatic fluid or seminal fluid passes.
The function of prostate gland is to produce prostatic fluid that nourishes and transports sperms. It is the second most common cancer in men(over 50 years of age) after skin cancer. Usually, prostate cancer grows very slowly and may not cause significant harm yet some types of prostate cancers, being more aggressive, can spread quickly without treatment.
Prostate cancer is common in men over 50 years of age and the risk of developing prostate cancer increasing with aging . In the early stages of development of Prostate cancer, there may not be any symptoms. However, symptoms that can appear at later stage include:
Frequent urination, especially at night
Difficulty starting or stopping urination
Weak or interrupted urinary stream
Loss of control over urine while coughing or laughing
Leaking urine
Painful or burning sensation during urination
Blood in urine or semen
Erectile dysfunction
Painful ejaculation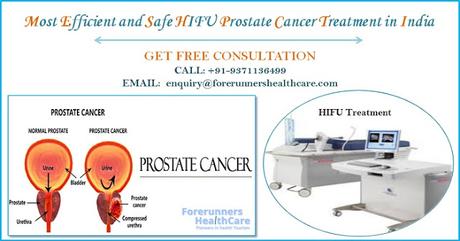 What are the types of Prostate Cancer?
Almost all prostate cancers are:
Adenocarcinomas called Acinar Adenocarcinomas that develop from the gland cells that make prostate fluid that is added to semen.
Ductal adenocarcinoma starts in the cells that line the ducts (tubes) of the prostate gland
Transitional cell (Urothelial cells) carcinomas - starts in the cells that line the tube carrying urine to the outside of the body (Urethra). This type of cancer usually starts in the bladder and spreads into the prostate.
Squamous Cell Cancer - develop from flat cells that cover the prostate. They tend to grow and spread more quickly than adenocarcinoma of the prostate
Other rare Types of Prostate Cancers are:

Small cell prostate cancer - develops as small round cells and is extremely aggressive and detected only after it has metastasized i.e. spread to other areas and organs.
Neuroendocrine tumors (other than small cell carcinomas) - are present in neuroendocrine system, which is comprised of nerve and gland cells, responsible for making and releasing hormones into bloodstream
Sarcomas - can grow in Lymphatic Vessels, Blood Vessels and Smooth Muscles of the Prostate.
Some time despite Prostate cancer treatments, the malignant cells remain in prostate. As a result, malignancy may recur in prostate area or in other areas of body. Such type of prostate cancer is termed as Recurrent Prostate Cancer.
Is it safe to get HIFU for Prostate Cancer Treatment in India?
By most qualified, skilled and experienced doctors
In world-class hospitals fully equipped with latest technology
By using non-invasive techniques i.e. without surgery and blood loss
What is the cost of HIFU treatment for prostate cancer?
HIFU Treatment Cost in India depends on:
Despite best facilities, is extremely low as compared to other developed or advanced countries for the similar procedure.
List of Top Hospitals for HIFU for Prostate Cancer in India
Indraprastha Apollo , New Delhi
Fortis Hospital, Saket, New Delhi
BLK Hospital, New Delhi
Fortis Medical and Research Hospital, Gurgaon
Artemis Hospital. Gurgaon
Medanta-The Medi-City, Gurgaon
Global Hospitals, Chennai
Kokilaben Dhirubhai Ambani Hospital, Mumbai
Wockhardt Hospital. Mumbai
For a free consultation for HIFU Prostate Cancer Treatment in India, you may contact Forerunners Healthcare Consultant at: +91-9371136499 or send email at: [email protected]