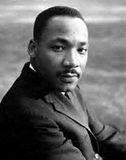 Cover of Martin Luther King, Jr.
08/21/2011 – by Cynthia Wright
A current USA Today/Gallup Poll recently suggested that most Americans believe that Dr. Martin Luther King's famous 'I  have a dream' speech of racial equality has been finally realized in the 21st century.
Even though, the poll does take into account that there is a divide between both the black and white communities perception of race and equality, despite that fact – the poll is still quite optimistic.
The poll findings stated that most Americans (90% of whites, 85% of blacks) believe tha civil rights have gotten better in the USA during their lifetime, with whites leading the thought pattern on the subject.
When it comes to job discrimination, 8 out of 10 whites feel that blacks have equality when it comes to job employment, at the same time, 6 out of 10 blacks believe that job discrimination is not a thing of the past.
Excerpted from USA Today:
"Whatever the civil rights movement did or did not accomplish, there remain very different perspectives, on average, between blacks and whites on how they view the country," says Vincent Hutchings, a political scientist at the University of Michigan who studies racial politics. On such non-policy issues as acceptance of interracial marriage or the prospect of a black presidential candidate, "there is something verging on a sea change."
It appears a lot of the evidence of the "equality change" stems from the United States election of President Barack Obama. Ironically enough, the backlash perforating through the country isn't discussed, even with the GOP gearing up for the 2012 elections.