Today marks the anniversary of premiere of Arnold Schoenberg's Moses und Aron  in Hamburg, Germany, in 1954.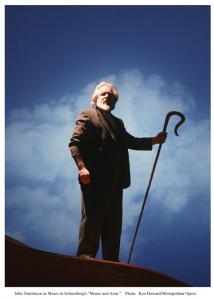 John Tomlinson as Moses, Metropolitan Opera, 2003
Moses und AronMoses und Aron
The first two acts of Moses und Aron were completed between 1930-32. It was never performed in its entirety in the composer's lifetime because he hadn't finished it before he died. However, a selection, "Dance of the Golden Calf," was performed in public 11 days before he passed away.  
This piece interests me holistically as a commentary on the time period in which it was written, the composition of  a man of Jewish descent, who lived in Central Europe during the rise of Aryan movement and later the Third Reich. Though Schoenberg converted to the Lutheran religion in 1898, he was unable or unwilling to renounce his Jewish heritage, returning to the Jewish religion in 1933, resulting from the sanctioned anti-Semitism overtaking Europe.  
After his family's own exile from their vacation residence in 1921–now open only to Aryans–Schoenberg grappled with what it meant to be of Jewish heritage in Europe during the 1920s:  
For I have at last learnt the lesson that has been forced upon me during this year, and I shall not ever forget it. It is that I am not a German, not a European, indeed not perhaps scarcely even a human being (at least, the Europeans prefer the worst of their race to me), but I am a Jew.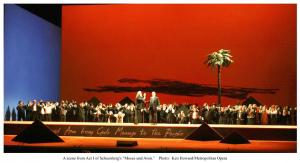 Moses und Aron, Act 1, Metropolitan Opera
tone row
atonal
But this work has moved me to a different place in my (provincial) thinking. If one is writing about the subjugation and exile of the Jewish people in ancient times or in Europe in the early- to mid-20th century, what musical language could be more appropriate? How else would an intelligent composer living during Schoenberg's time express the mounting horrors of his life and time?  His musical vocabulary grates against conventional expectations for what opera should sound like, and, as a result, is sheer genius and unforgettable.  
Here are two excerpts of Moses und Aron from the Vienna State Opera's 2006 production conducted by Daniele Gatti and directed by Reto Nickler. A bit of trivia, apparently Schoenberg had severe triskaidekaphobia and took one of the A's out of Aaron's name as it is more commonly spelled in naming his work.