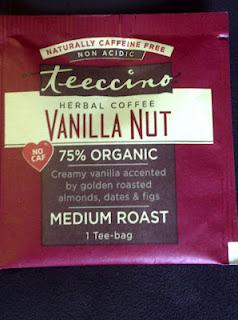 Every now and then I feel like my body can use a little rest from my usual routine.  I know eating according to a vegan diet is a gift I give my body, but sometimes there are a few more bagels than salads, more tortilla chips than fruit, and I know it's time to take a break and regroup.  Especially when it's bikini season!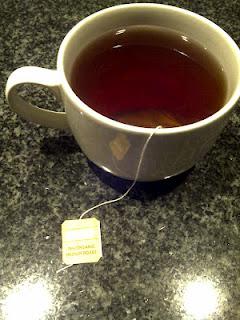 I was walking through Whole Foods on Sunday and stopped by the coffee bar to get a quick jolt of caffeine before starting my day.  At the counter I saw samples for Teeccino, billed as an herbal coffee but without caffeine, and packaged like tea!  It is also 75% organic.  There were three varieties on the counter but I only grabbed two - one vanilla nut accented by golden roasted almonds, dates and figs, and one hazelnut - and tossed them in my bag to try this week.  Later that night, at family dinner at the home of good friends, I was selecting a tea for after dinner and what did I find amidst the chamomile and green? Teeccino!
I have tried twig, mate and macha tea, all of which are touted as good coffee replacements, but this was too.  Both flavors had a sweet aroma but a bold flavor, much like a mild coffee blend like the Blonde roast you find at Starbucks, yet I didn't feel the need to add milk of any kind as there was no bitter after-taste you can get from a coffee bean.  It also didn't keep me up at night so for those of you who crave coffee at all times of day an night, this might be a perfect substitution for you before bed.
For more information, go to 
http://teeccino.com/
 or check out the shelves at your local Whole Foods.