Moong dhal banzi- I came across this recipe when I was going through the book- 100 snack varieties by Malika Badrinath. Malika Badhrinath has written an array of cook books in Tamil which are also available in English translation and the above mentioned book is one of them.This particular recipe caught my attention as it was healthy and looked fairly simple and also unique. Now I do not know the origin or the state to which this recipe belongs to,but I can say this is some what similar to adai(thick crepe made of rice and lentils) sans rice.I was very much interested as this recipe uses banana leaves in preparation.If you had ever tried banana leaf in cooking you must be knowing the unique and beautiful smoky flavor they impart to prepared dish.I read the recipe and as all the ingredients were my pantry staples I tried out immedietly. I made few small changes and this came out very well and we enjoyed this hot with tomato chutney.Please try and let me know.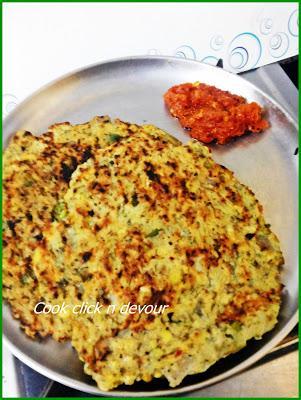 Moong dal banzi- Adapted from 100 snack varieties
Star ingredient- Whole green moong
Preparation time- 8 hours
Cooking time-30 minutes
 
Ingredients:
1 cup whole green moong dal
1/4 cup dried green peas
2 large potatoes
1 large onion
3 green chillies
2 dried red chillies
1/2 green bell pepper
1 teaspoon coriander seeds
1 table spoon oil
1 teaspoon sugar
Salt
Banana leaves cut into wide squares
Method:
1.Soak whole moong and peas overnight or 8 hours.Drain the water and grind to a coarse paste with minimum water along with coiander seeds and chillies.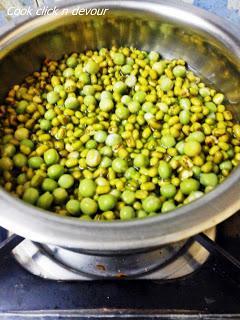 2.Pressure cook and peel the potatoes.Chop onion and bell pepper finely. Mash the potatoes very well,combine the mashed potatoes,onion,bell pepper with ground paste.Add salt,sugar and oil and knead to form a loose dough.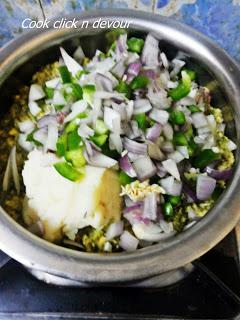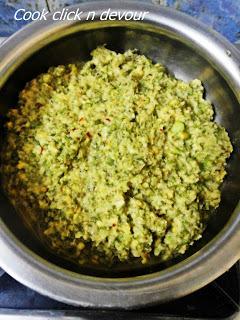 3.Take a cut banana leaf,apply some oil,spread a handful of dough to form a thin circle.Make it as thin as possible.Close with another leaf and cook on a hot tava from both sides.Cook till the leaf changes in color.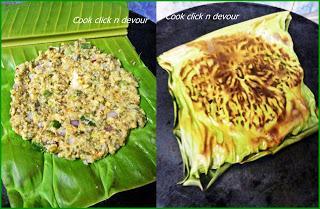 4.Once cooked remove the leaves and serve hot with chutney.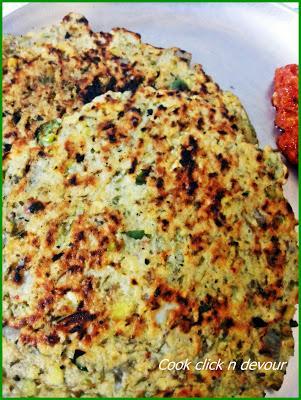 Notes:
1.Remove the cooked crepes immedietly from banana leaf as it may be little messy to remove once cooled.
2.Spread the crepe as thin as possible to ensure thorough cooking.
3.Use fresh peas if available instead of dried,and boil them along with potatoes and mash.
4.If banana leaf is not available,spread the dough in a parchment paper,or the backside of a greased wide plate.
Sending this to the ONLY event hosted at Gauri's,she is looking for recipes cooked ONLY from cook books.