Months supply of inventory has been dropped slowly but steadily since March, now down to 3.4 months metrowide according November data released this week by the Minneapolis Area Association of Realtors. When broken out by type, the shortage is strongest in the townhouse market, which is down to a 2.6 month supply. Condos have seen the most dramatic turnaround... last year at this time there was a 7.5 month supply, this year only a 3.5 month supply!  With a balanced market considered to be a 5-6 month supply, we are now in a seller's market.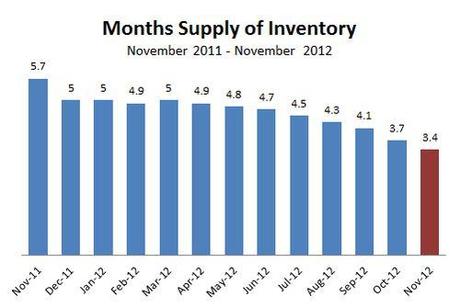 Sellers don't seem to have picked up the fact that this is a good time to sell yet... maybe busy getting ready to sell in the spring. The number of homes available for sale continue to hang well below past years... well below any month in the last 9 years.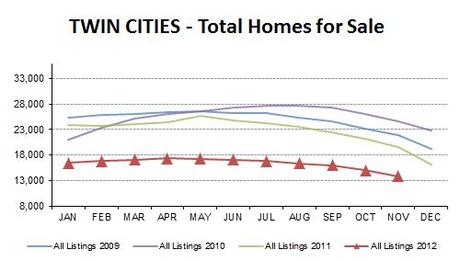 Median sale price, although softening a bit as it always does at this time of the year, is higher at $173,000 than any November since 2007.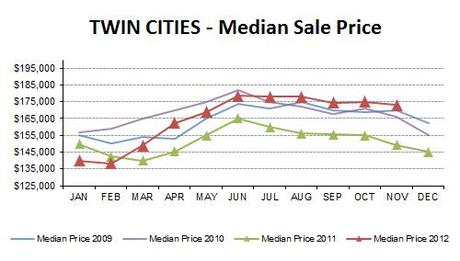 Part of what is helping this median price increase is a shift to more sales in higher price ranges. Homes in the $190k-$350k price range showed increases in pending sales in the 30% range over last year and homes in the $350k-$1M range increased about 42%, while the percentage of home sales under $120k decreased and homes in the $120k-$190k range increased only about 13%.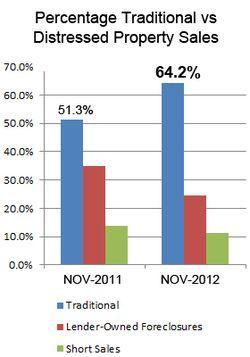 This change is also being fueled by a shift to a higher percentage of traditional home sales vs distressed short sale and foreclosure properties. In November 64.2% of pending sales were traditional sales while last year the percentage was 51.3%. The shadow inventory in the Twin Cities market is among the lowest in the nation so hopefully this trend will continue.
According to the December Improving Markets Index the Twin Cities market ranked #9 in the nation in home price growth.
Although pending sales dropped a bit compared to last month, they are up 12.6% compared to last year, and you have to go back earlier than 2005 to find November pending sales as high as they are this year. Hopefully this is a sign we will end the year with December closed sales higher than previous years as well.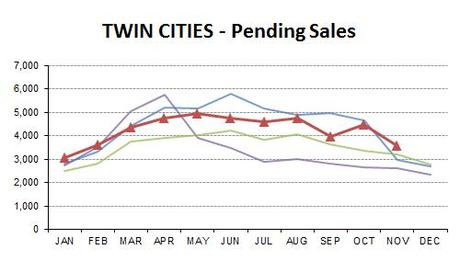 All this means that market times are down, now an average of 103 days on market until sale... and percent of list price received was at 94.3% in November. That means that average sale price on a home listed for $200,000 was $188,600.
The figures above are based on statistics for the combined 13-county Twin Cities metropolitan area released by the Minneapolis Area Association of Realtors. NOTE: The change in median sales price in the first graphic uses a 6-month weighted average, meaning that each of the 6 months used in a dot are propeportioned according to their share of sales during that period.
Never forget that all real estate is local and what is happening in your neighborhood may be very different from the overall metro area.
Click here for local reports on 350+ metro area communities
Click here for current interactive market analytics by area, city, county, neighborhood or zip code
Sharlene Hensrud, RE/MAX Results - Email - Minneapolis - St. Paul Real Estate Market