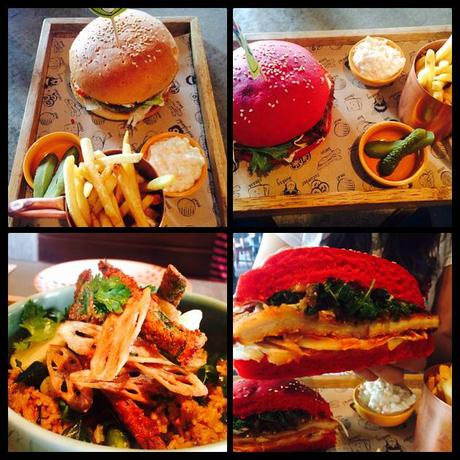 Monkey Bar. The name rings a bell, or just tinkers it for some; but it is indeed a renowned place in the city; for that matter even in Bangalore and Mumbai. Well known for its wide variety of cocktails, it is also slowly establishing its name through its innovative menu consisting of unique combinations, brought together from different parts of the country.
It is spread across two main locations in Delhi, Vasant Kunj and Connaught Place. Having earned its share of fame, it has recently decided to add some more items to the enlisted menus of both outlets in the capital.
Hence mentioning the reason of our visit to the same, I'd like to start with mentioning that it was an enthralling experience. I , for that matter, everyone present at the venue, was glued to the respective tables till the end. One of those when you want to sit back and absolutely cherish every moment passing by; because
1.

  
You have a great company
       2.

  
You have a great cause/reason
   3.

  
You're enjoying every bit of it
With all three being true, I'd really wish to mention the terrific efforts of the hosts and the servers (specifically mentioning ROHIT for his very generous and humble service throughout the time we were there).

We started our lunch with some Mushroom Galouti and Rajnikanth Rice. Two dishes, that would win you, despite of your mood and taste. The very fine galouti with a fine, crispy base and the perfect blend of mustard and coconut in the rajnikanth rice were two things that literally set the whole experience apart from my previous endeavours. Next on the list is definitely the cocktail that was preferred by a lot of fellow bloggers; 24 Karot, a smooth combination of whiskey, wine, passion fruit and mango. [ But there is something that i'd not recommend for the admirers of it; the Watermelon Martini. The improper blend makes it a little harsh on your taste buds.]

Next, up our list, were the two popularly appraised burgers, Go green and Yakuza (Red Burger). Where, on one hand, I'd strongly and full heartedly recommend the Go Green burger to any vegetarian who's looking to have a splendid meal, for that matter, even a non-vegetarian; I have a little analytical perspective towards the Yakuza. Being a person that prefers to enjoy her experience, rather than going into every bit of the technical detail, I saw my friend struggling with the Red Burger (specifically the chicken patty that was sticky and undercooked) and formed a negative opinion about the same.
Nonetheless, we had other great things to cover that up; THE old monk rum chocolate cake and the Rasmalai Panacotta. The chocolate cake has always been a favorite with the perfect combination of old monk and chocolate along with the appropriately caramelised almonds. Rasmalai Panacotta is similar to the "It's a mistake" doughnut by Dunkin Donuts; not preferred by a lot but still holds its position because of the unique composition.
All in all, a perfect Saturday evening when you treat your soul, in company of your mate; without a single regret. Kudos to the hosts and the staff. 
By Harshili Malhotra 
Quick Facts
Connaught Place 
P 3/90, Connaught Circus, 
Connaught Place, 
Vasant Kunj 
Plot 11, Upper Ground Floor, 
LSC, Pocket C 6 & 7
Vasant Kunj 
Meal for two 1500 - 2000(Approx) 
Disclaimer - This review was done on an invitation from the establishment. Views expressed in the review is entirely ours and without any bias. Pictures of the dishes are not the standard portions, they are sample portions.