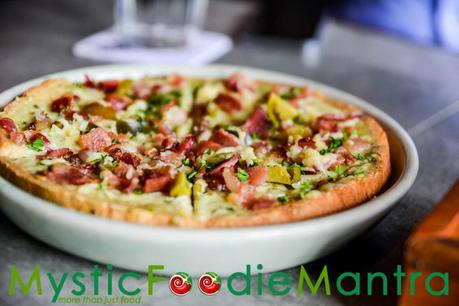 Delhi's heart has started beating again. The government had planned to revive the Delhi's jewel for 2010 Commonwealth Games but it got delayed for eternity. Till recently brands were averse to CP but everything has changed this year.Some exciting brands have opened shops in CP which will revive CP's old glory. One such brand is Monkey Bar. One of the most youthful, exciting brand to be born in recent times, it has changed the way Indian youth hang out. After charming Dilliwalas, India's first gastropub has come to CP. It got opened on 10th September and we landed there on the 11th afternoon.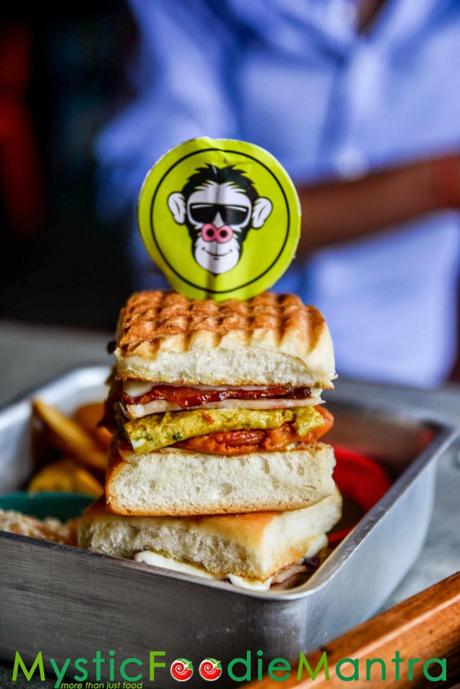 Located opposite PVR Rivoli in P block, it is spread on two floors and carries its signature chic & quirky interiors. Special mention has to be given for the second floor, which has an alfresco dining overlooking the roads of CP. We met Chef Manu Chandra, who is the Founding Partner of Monkey Bar and Executive Chef Olive Beach Bangalore. We talked about varied things, starting from his background to current trends in the food industry. When we asked him about the food at CP outlet, he told us "I have taken popular dishes from iconic CP restaurants and have tried to give them my twist. It's my tribute to good old CP days." You guys can read about our detailed chat at http://www.mysticfoodiemantra.com/2014/09/know-your-chef-chef-manu-chandra.html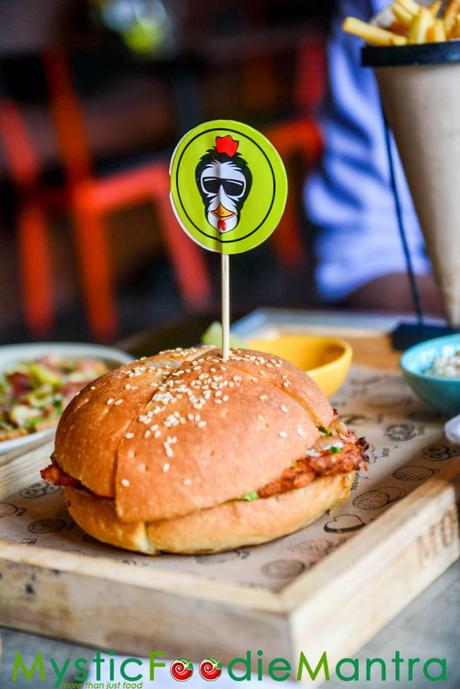 The conversation with Chef Manu had set our excitement level soaring and we were expecting some fireworks on the table. The first one to explode on our table was MoBar Kulcha Sandwich. The fusion of European and Indian food was done so well that I was left wanting for more. Chunky Goan Sausages, caramelized onions, tomatoes and lettuce in a Desi Kulcha. Simple flavors, which gelled very well together. Next was Mushroom Bruschetta, a stew of Shiitake, Straw, Oyster, Button and Porcini Mushrooms on a grilled Garlic Baguette slice topped with Brie. It was a blast of flavors in my mouth. Reddy's Fried Chicken Popcorn, a South Indian twist to popular American snack. Cooked with coconut and curry leaves and served with spicy coconut chutney and curry mayo, it is an addictive snacker which you cannot avoid.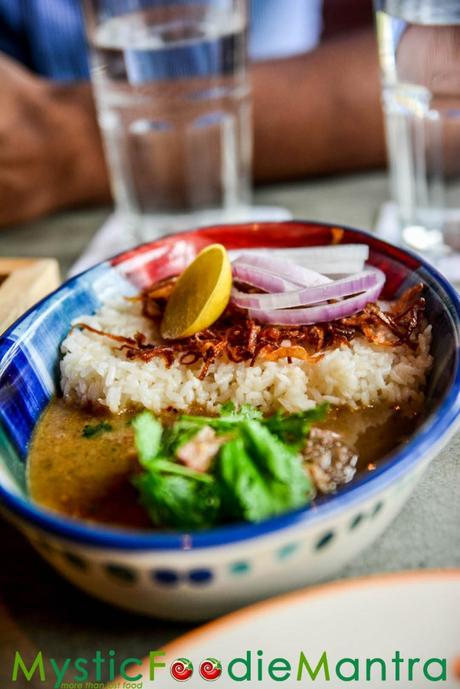 Slowly we were being moved towards the big meal and were served Caramalised Ribs next. Dark brown in color, the ribs had smoked flavor, rich texture had yet been soft and delicious. Next were cute butterfly shaped crispy shells stuffed with Paneer and Cheese cubes done with chili, herbs, onions and ginger. Flutterfly, as they were called, were crunchy and the flavors of stuffing had a spicy kick. Next were two bread based meals – MoBar Burger and MoBar Gymkhana Sandwich. Classic burger elements - bread, huge patty, lettuce, cheese, bacon, onions, tomato and mayo done in a minimalist way. Patty was juicy, bread and veggies were fresh and entire concoction delicious. The Gymkhana Sandwich was the remake of a classic. The classic sandwich, which is raved by everyone visiting Delhi Gymkhana was twisted a bit, but the taste and flavors were the same. And it was served with Potato Wedges, Coleslaw and Chutney. Our main course had two classics - Prawn Gassi, typical Magalorean style curry and Chandra Ji's Mutton Curry, typical Kayastha meat dish. Prawn Gassi was cooked to perfection retaining the traditional spicy flavors and was served with rice. It was the first time I was exposed to food from Kayastha community. Mutton Curry, cooked to perfection in minimal spices was served with aromatic Gobindo Bhog rice. Both the dishes were delicious and were cooked like the way they are cooked traditionally in the homes.
We loved the soul satisfying food. Chef Manu got us the MoBar Sundae, his take on amazing sundaes served in old ice cream parlors and restaurants in CP. Cake, Peanut Butter, Chocolate, Nuts and Ice creams all coming together to make a yummy and slurpy sundae.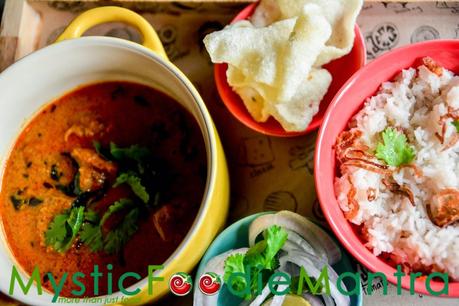 During our lunch we also tried MoBar Special Cocktails. Incredible Sulk was a very interesting take of the regular Kala Khatta which Chef Manu had spiked it with Rum. It had the same taste, but with a twist. Can you imagine a cocktail with Imli flavor, which is what Shazia Imli is!!! Spicy Imli juice with lime flavored vodka, which was brilliant in taste.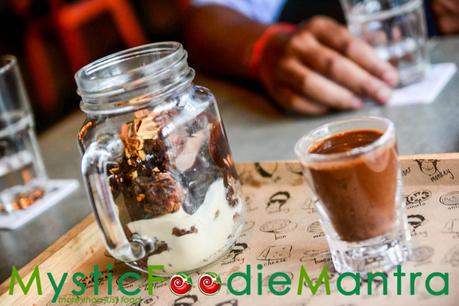 We were in love with Chef Manu's minimalist style of cooking and his interpretation of classic recipes and tastes. CP deserves energetic, youthful and fun brands to revive its forgone glory. We are sure Monkey Bar will get the crowds flocking back to CP.