This is my friend Nykki's  weekly Monday Beauty Blog Hop at Nykki's Mane Blog. This week I'm posting it on my blog too because she asked me to be her co-host. This is the 3rd week I've participated in the blog hop and its really fun. I've found some really great new blogs from this. Hope you will participate

Keep reading for all the information.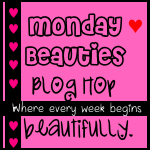 Hello Beauty Lovers and Bloggers! :) Welcome back to my Monday Beauties blog hop! I hope to create a place where bloggers can come together and share their links in a friendly and supportive manner! If you are saying "What the hell is a blog hop?"
just click here to see my INFORMATION post!
(You can also find the times and days of the event there) :)
Now let's get to business: Here are the very simple rules:
1.  
Subscribe to my Blog Via GFC :)
and leave me a comment below to let me know you are following (with your link) so I can subscribe back! :) 
Subscribe to my co-host Kelly's blog Just click here
2. Add your blog URL to the Linky Below! (make sure to include http://www.)
3. Check out as many blogs as you want and if you decide to follow leave a comment letting them know that you have subscribed and found them on Monday Beauties Blog hop! :)
4. Check out the featured blogs! :)
OPTIONAL If you want to be really nice to me! :)
♥ Grab the blog hop button and place it somewhere on your blog or in a blog post. (remember you will need to re-enter your blog every week, so you can make this a weekly post) - You can find the blog button code in my sidebar.
♥ Grab the linky code and place it in your post or anywhere on your blog. This way if somebody comes to your blog they can continue hopping along. You can place the list on your blog too. It will automatically update all of the blog URL's! Pretty cool huh? You can make it a weekly post too! :)
">&
♥
♥