I was contacted by the this wonderful lady to try out this system. Katherine Reeves 
Sent me some samples and here is what she sent to me.
If you have been following me for a while, then you know that i have long hair, that is processed and its on the curly side. I have not used a sulfate type of shampoo in years and my hair has not looked better. I take great care of my hair.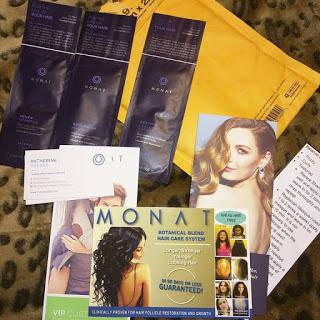 This system is designed to help with density, strength and manageability. I had not heard about this company before she contacted me. While i was waiting for the samples to come, My local town had a fair at our local park for the 4th of july and they have all different kinds of booths set up and there was a booth for this company. That is honestly the first i had ever seen this.
I got this products and tried this out.
First is the Renew Shampoo-- Salt and sulfate free gently hydrating cleanser that improves moisture balance of the hair and support the restoration of youthful vitality
Next is the Restore Leave in conditioner-- this is designed to revive each strand and support restoration of lost essential nutrients to the scalp. It leave fragile hair silky smooth with no flyaways
Last is the Replenish Masque-- Infuses vital nutrients to help eliminate frizz and reduce split ends. Ideal for damaged and moisture starved hair.
MY THOUGHTS-- This is a great system.. It got my hair clean and conditioned. I did however use another leave in conditioner later on after my hair dried because i am diligent about taking care of my hair and i dont want it feeling dry at all.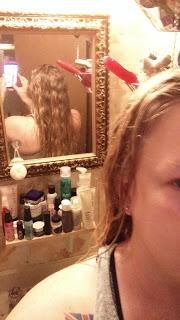 Here is my hair after i have used all three products.
As you can see my hair is not frizzy at all
If you are looking to have Longer, stronger and better looking hair then try out this system. I am glad that i got to try this out and a special thanks to Katherine for sending me some samples to try.
GO to the link about and order yours today.