This quiche has become a staple in my house. I usually eat very healthy and finding good (gluten free) breakfast foods that I can take on the run used to be a challenge. I'm not a big fruit person and recently yogurt was added to the list of things my tummy no longer likes.
I make this quiche in a big batch every week or two. Once cooled I section off into squares, throw into small plastic bags and freeze. I literally grab one every day on my way out the door for work. It's stays frozen for my commute and I throw it in the microwave when I get into the office. It's a healthy start to the morning and a perfect solution for my busy lifestyle.
Enjoy!
Xxx
Ingredients:
Olive OilSalt and PepperOnionSpinach, Mushroom, Zucchini (any veggies you have available)Low fat Cheese (any kind)Egg Whites (I use organic egg whites in a carton, 3 cartons for a large pan – but use as many as you need to fill your pan and make a soup like mixture)
Method:
-Preheat oven to 375 degrees-Sautee onion, spinach, mushrooms etc until soft. Add salt and pepper, let cool-Spray baking pan with non-stick spray-Once cooled, pour the veggie mixture straight into the baking pan-Pour egg whites into the pan with the veggies-Add a small amount of lowfat cheese-Make sure veggies / cheese / eggs are evenly distributed in the pan, it will look like a big pan of soup-Bake 35-40 min until the top starts to look golden brown-Cool and cut into pieces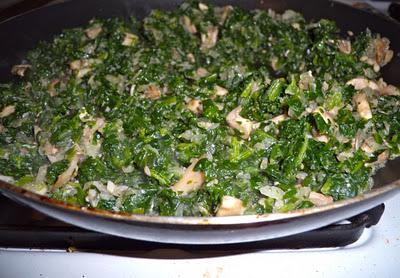 Spinach, Onion and Mushroom cooling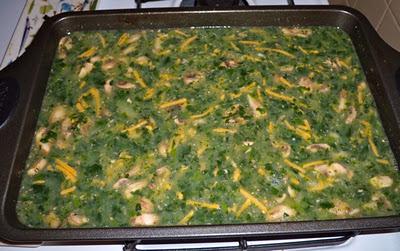 Quiche soup!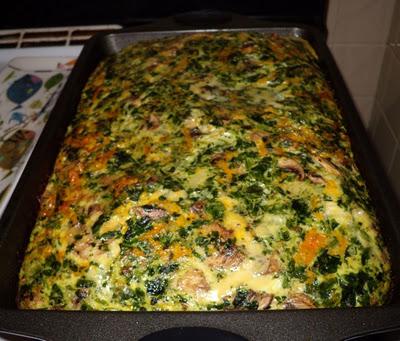 Enjoy!!