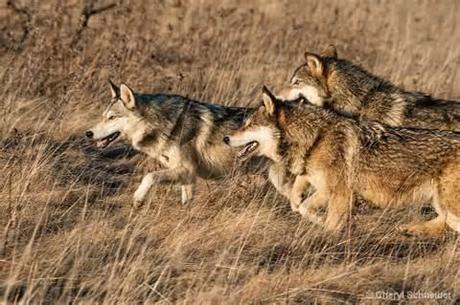 by Don Davis / TwinCities.com
A state Senate committee decided more information is needed about Minnesota's 2-year-old wolf hunt, so voted Tuesday to suspend the hunt.
The 8-6 vote in the Senate Environment and Energy Committee favors a milder version of bills wolf proponents want to permanently end wolf hunting and trapping. Even with the vote, changing the state's wolf hunting law is far from passing.
The issue pits hunters and cattle producers who favor the hunt against those who want to end it.
"When you disrupt the pack, you now have chaos," testified Maureen Hackett, Howling for Wolves founder.
She said that killing one wolf could force others to go on lengthy hunts for prey, which could be livestock.
Farmers did not buy her argument.
"We are concerned about the loss of livestock with our cattle," said Thom Peterson of the Minnesota Farmers' Union, supporting existing law that allows a hunting season.
Sen. Foung Hawj, DFL-St. Paul, said that he brought the bill forward because not enough information is known about how the hunting season affects wolves. The bill would order the Department of Natural Resources to conduct a comprehensive study of all known wolf kills, ranging from hunting to car accidents.
The "wolf data bill," as it is titled, calls for an annual wolf population census and creation of an advisory wolf task force. It also would close tribal lands to the hunting and trapping of wolves if tribal leadership requests it.
The DNR opposed the bill, saying more studies like the bill demands are not needed.
"Minnesota has more data on the wolf population than almost any other hunted species in the state," the DNR's Dan Stark told senators.
"We feel all of the things in the bill are being covered at this time," added Assistant DNR Commissioner Bob Meier.
Stark said that hunting "poses no long-term threat to the wolf population."
Without the law, Stark said, the DNR plans to update the state wolf management plan beginning this year. That could affect the number of wolves allowed to be killed by hunters.
The committee approved the measure only after a parliamentary maneuver. The first vote was 6-6, which would have stopped the measure, but when Democratic Sens. Katie Sieben of Cottage Grove and Matt Schmit of Red Wing arrived at the meeting late, a new vote was called and they voted for the suspension.
The original vote was mostly along party lines, although Sen. Lyle Koenen, DFL-Clara City, joined Republicans in opposing the suspension.
A similar bill in the House has not been acted upon and no hearing is scheduled.
Minnesota held its first managed gray wolf hunting and trapping seasons the past two years after the wolf was removed from the federal Endangered Species List. Some groups and individuals protested the hunt and filed lawsuits trying to prevent it. None of those lawsuits was successful.
Biologist Timm Kaminski, who has spent years studying wolf and grizzly bear interaction with livestock, said that livestock producers he knows often oppose wolf hunts if wolves are not attacking their livestock.
Peterson, however, said that in numerous Farmers' Union meetings in wolf country, farmers indicated are united in supporting a hunt.
Sen. Julie Rosen, R-Fairmont, said she wants to make sure that if Hawj's bill continues to advance that it contains provisions to involve all interested parties, ranging from American Indian tribes to livestock producers to hunters.
"We're adamantly opposed to the legislation," said Executive Director Mark Johnson of the Minnesota Deer Hunters Association. "It refuses to acknowledge the research and study that's gone into wolves, not just here in Minnesota but internationally."
Hawj's bill must pass other committees before reaching a full Senate vote.