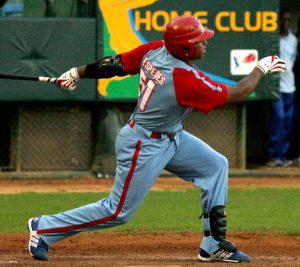 With as many as six MLB teams reportedly interested in Cuban slugging star Yoenis Cespedes, the 26-year-old outfielder was declared a free agent by Major League Baseball on Wednesday.
Cespedes has been hyped all offseason as the next big thing in baseball. The outfielder has recently defected from Cuba, and holds the single-season home run record for his former country's major baseball league. While playing in the Dominican Repbulic winter league this past month, Cespedes has struggled somewhat, striking out ten times in 35 at-bats, with only one home run.
Cespedes had himself claimed last week that among the six teams interested in signing him, the Chicago Cubs were the most interested. He claimed that officials from the Cubs had dined with him on more than one occasion.
A natural fit for Cespedes would be the Miami Marlins. The Marlins have been one of the most active teams this offseason, signing free agents Jose Reyes, Mark Buehrle, and Heath Bell, along with hiring a new manager, former White Sox skipper, Ozzie Guillen. With their increased payroll and new stadium set to open this season, the Marlins might want to make yet another splash this winter by getting Cespedes. While Miami has struggled to gain a steady following since joining the league in 1993, a big city with a huge Cuban-born population would seem to be a smart fit for Cespedes and the Marlins.
"We're going to try as hard as we can (to sign him)," said team president David Samson during a recent radio interview.
While Cespedes is apparently a five-tool player, he could give the Marlins great value for the next few seasons, even at a relatively hefty price tag. Some reports have had a potential contract totalling $50 million for the Cuban star, despite the fact that he hasn't had one at-bat in the major leagues. Cespedes has seen MLB pitching, as he participated in the 2009 World Baseball Classic.
Other teams reportedly interested in Cespedes besides the Cubs and Marlins, are the Chicago White Sox, Baltimore Orioles and Cleveland Indians.
With the big free agents now off the table this winter, following the Detroit Tigers' massive contract given to Prince Fielder on Tuesday, Cespedes is the last big name remaining on the radar of MLB teams looking to improve their outfield. While Cespedes may be more hype than substance at this point, the prospect of getting a great player at a relative bargain has piqued the interest of several teams and their fanbases.
With the announcement this week that Cespedes is now a free agent, the rumors will only intensify, and there could be a surprise team joining the fold, just as the Tigers unexpectedly signed Fielder after he had been linked to several other MLB teams. Regardless of who signs Cespedes, his first appearance in an official game will undoubtedly be a much-hyped and watched event, which will benefit the game, as well as whichever team takes a chance on the unproven slugger.