November 2011 Week 3: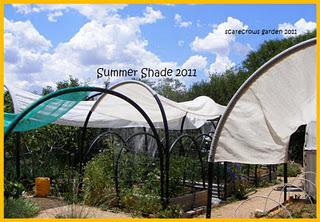 Weather highlights:


With day temperatures reaching 35C and above the shade covers have proved their worth already this season. A cool change on the weekend brought some welcome rain and the cooler weather following meant a chance to get some more seedlings planted out. I am beginning to get some spare room on my propagation tables. Just as well because my Trees For Life supplies have been collected and I will be planting the first seeds very soon!


Propagation:




Seeds:


Nasturtium Jewel Mixed
Sunflower Sun King
Red Clover
Direct sown in the Old Chook Run Garden


Potting on:


Cucumber Bushy from seeds sown 10/11/11;
Cucumber Suyo Long from seeds sown 10/11/11;
Celery from seeds sown 29/10/11;


Planting out:

clearing some of my leftover 'backup' seedlings.
Tomato - Black Cherry Seedlings from seeds sown 11/08/11;
Silverbeet - Green Organic from seeds sown 4/08/11;
Were planted into the Kitchen Garden area 4
Coriander - Seedlings from seeds sown 29/10/11;
Lettuce - Goldrush Seedlings from seeds sown 29/10/11;
Amaranth Leaf - Seedlings from seeds sown 29/10/11;
Went into the Greens Wicking Tank


In the

Old Chook Run Garden

:


Tomato Money Maker and Big Rainbow Seedlings from seeds sown 10/07/11;
Silverbeet Green Organic Seedlings from seeds sown 4/08/11;


A mix match of Companion Plants:

again helping to clear the propagation benches!


Basil Genovase, Large Leaf Italian

Ocimum basilicum


False Balm of Gilead

Cedronella triphylla


Golden Daisy Bush

Euryops pectinatus


Lavender

Lavandula officinalis


Marguerite Daisy Double White

Argyranthemum frutescens


Marigold Crackerjack

Tagetes erecta


Marigold Oranges and Lemons

Tagetes patula


Nasturtiums

Tropaeolum majus

Tall Mixed
Parsley Curled

Petroselinum sativum


Rosemary

Rosmarinus officinalis


Society Garlic

Tulbaghia violacea


Strawberry Guava

Psidium littorale var. longipes


Tansy

Tanacetum vulgare


Thyme common

Thymus vulgaris


Willow Herb

Epilobium parviflorum




In Tank Wicking Bed 8 MVG


Luffa
Gourd Spinning Top
Cucumber Bushy
Marigold companions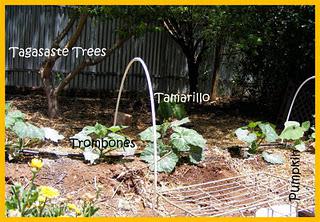 At the end of October these (see them here) newly planted Trombone and Pumpkin seedlings were being attacked big time!!!
The latest photo taken earlier this week shows how they have recovered. They had been covered up each night out of the reach of the minibeasties. Now that they are growing too large to be covered they seem to be fighting off the attackers by themselves!
The hoops were for shade covers when the seedlings were tiny. They remain to enable emergency covers to be thrown over for protection when we are on "hail alerts".
These plants are growing in the old chook run and the nearby Tagasaste trees will provide cooling shade in summer.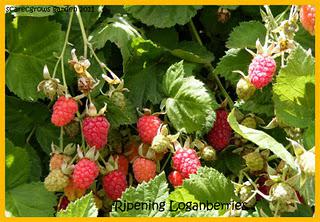 With the heat the Loganberries ripen rapidly...we eat as many as we can fresh then the rest go into the freezer for cold treats on hot days or additions to the fruit salads Doc and I take with us to markets for our breakfast!
After the rain all ripe fruit was harvested before any chance that mold could develop (none did) and the pickings were made into some yummy jam.
During this week I will be posting the updated

What's Growing Where?

on this link.