The home bakers challenge for the month of July was hosted by Manjula.She had challenged us with a series of bread and we were supposed to bake one or more.
1.Rainbow classic swirl bread
2.Fresh strawberry chocolate stuffed pull apart bread
3.Chocolare marble Asian bread
4.Anadama bread
Out of these four the pull part bread looked interesting to me but I didn't want to make sweet filling there.So I kind of altered the recipe for savory filling and made this bread for our dinner recently.The bread turned out pretty soft and yummy and I was happy to succeed on the first attempt :). Here goes the recipe with pics :)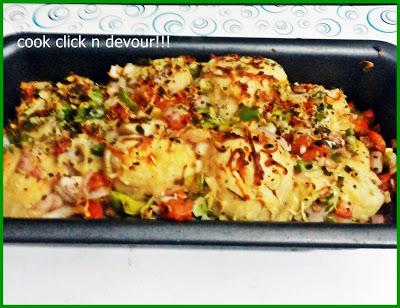 Vegetable stuffed pull apart bread-HBC July
Start ingredient:Mixed vegetables and bread dough
Time-15 minutes kneading+2 hours resting+25 minutes baking
Yiled:12 rolls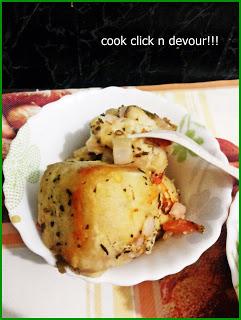 Ingredients:
2 cups all purpose flour
1 1/4 teaspoon active dry yeast
1/2 teaspoon salt
1/2 teaspoon sugar
Dried herbs of choice
Luke warm water to knead the dough
1/8 teaspoon olive oil
Filling:
I went for a simple mixed vegetable-herbs filling with grated cheese topping
1 tomato chopped fine
1 green bell pepper chopped fine
1 onion chopped fine
3/4 mixed dried herbs
Grated chees
Salt
Pepper powder
4 teaspoons olive oil
Method:
For dough:
1.Take about 1/4 cup of luke warm water in a bowl,add sugar to it and sprinkle dry yeast.
2.Let it rise for about ten minutes.In the mean while combne al purpose flour with salt and herbs.
3.Once the yeast is froathy add it to the flour and mix well.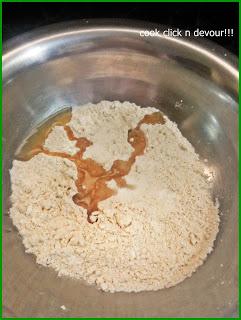 4.Now add the rest of water slowly and bring together.Once it is combined start kneading.The dough should not be very sticky or very dry.Adjust water and flour and knead.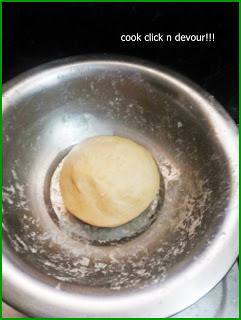 5.Knead at least for 10-12 minutes.Coat the dough with olive oil and let it rest.After an hour punch and roll.Rest again.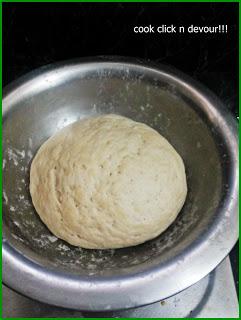 For the filling:
In a wide bowl combine all the vegetables,add oil,salt and mixed dry herbs.Mix well.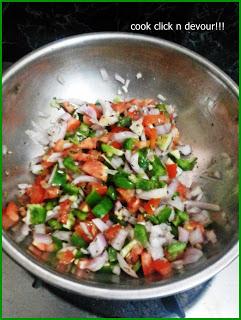 Baking the bread:
1.Take the dough,punch and knead well.Make 12 equal sized balls.
2.Take a loaf pan that is deep enough and prepare it by greasing and dusting.
3.Add abut 2 teaspoons of the prepared filling to the pan and spread evenly.
4.In a small bowl add a pinch of dried basil and salt,dip each dough ball i the oil mixture and arrange as seen in picture.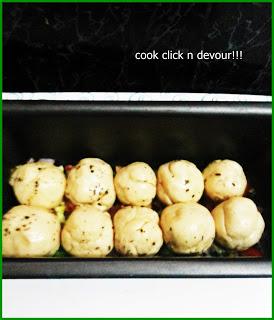 5.For the second layer distribute the filling generously and spread evenly.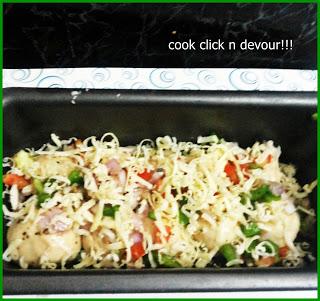 6.Now arrange the remaining dough balls.Spread the remaining filling.Top with required amount of grated cheese.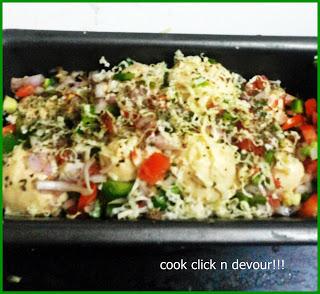 7.Bake in a preheated oven for 25-30 minutes at 200C.Use a fork to pull each ball and serve hot.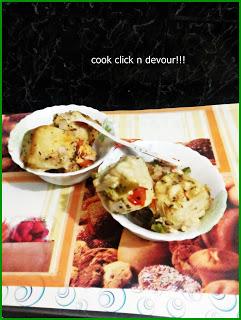 Notes:
1.You can of course you any kind of filling sweet or spicy according to preference
2.I am planning to try this with whole wheat flour with dry fruits and nuts filing for my daughter.
3.Make sure to you the freshest possible yeast.
These rolls were delicious and I look forward baking them again.Thanks manjula!