Here is my south Indian version of very famous north Indian mixed vegetable pickle.I once tasted this pickle in a restaurant was very much hooked to the idea of using fresh veggies in pickle.Upon inquiry I was told it is famous in north India and it often prepared during winter when the veggies are freshest and crunchy.The only thing I did not like much in that pickle was mustard oil and little bit of sweetness.I have always eaten pickles with sesame oil.So I decided to try my hands at this mixed vegetable pickle in my own way.I should say the result was tremendous.The pickle was awesome.I used the veggies I had in hand and avoided cauliflower as I never use cauliflower in any recipe raw.Try this,very tasty one,goes well with chapathis,curd rice ,pulao etc.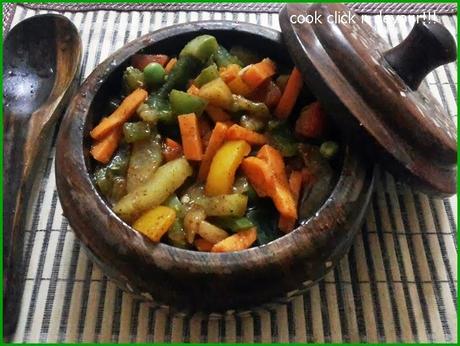 Mixed vegetable pickle recipe
Star ingredients: Mixed vegetables and sesame oil
Time:15 minutes
Yield:4 cups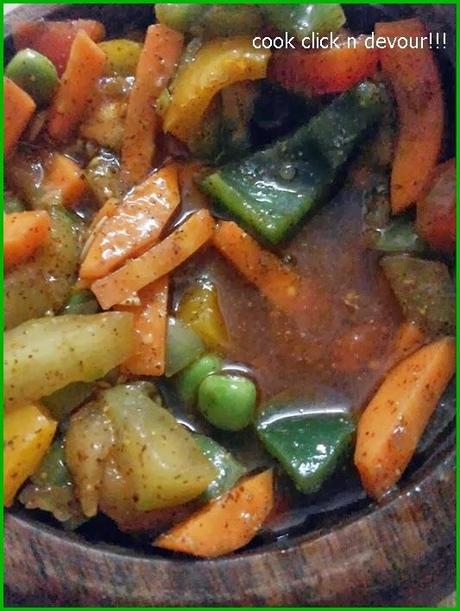 Ingredients:
3 1/2 cups cut vegetables
I used
carrots(peeled)
Cucumber(peeled)
Green peas
Different colored bell peppers
Green tomatoes
3/4 to 1 cup sesame oil
1 teaspoon mustard
1/2 teaspoon methi seeds
1/2 teaspoon asafoetida
3 teaspoons chilli powder
1 teaspoon turmeric powder
Salt
Method:
1.Select fresh and tender crispy vegetables.Wash and dry thoroughly.Wash and dry the cutting board,knife,plates etc well.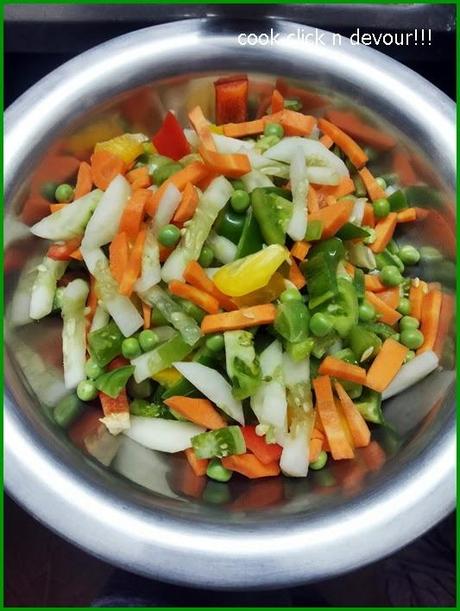 2.Dry roast the ingredients from mustard through turmeric and grind.Make sure the jar is dry before grinding.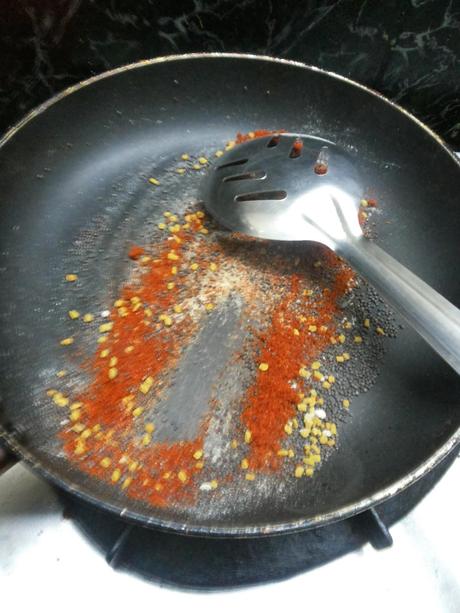 3.Now take the cut vegetables in a clean dry bowl,add the salt and ground spice powder.Do not mix.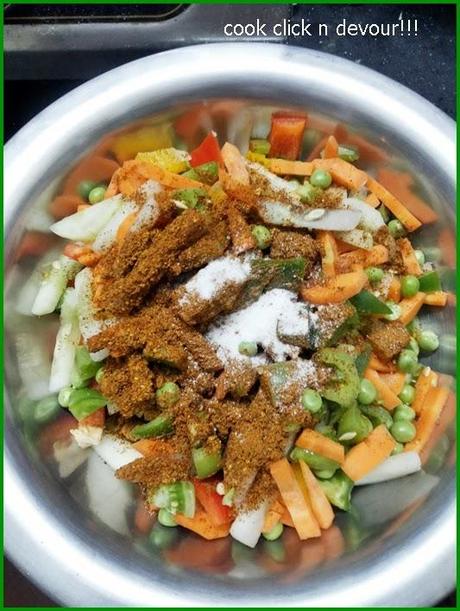 4.Heat the oil for 3-4 minutes and add to the vegetables at once.After 10 minutes mix well.
5.Let the pickle rest for at least 10 hours before using.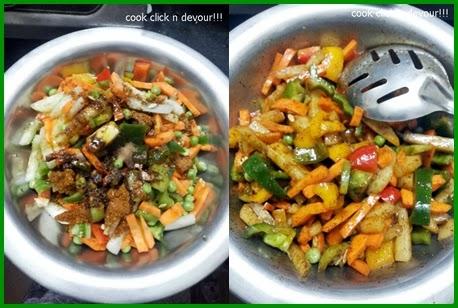 6.Store in a clean wood/glass jar and refrigerate.
7.Take in small quantity and use when needed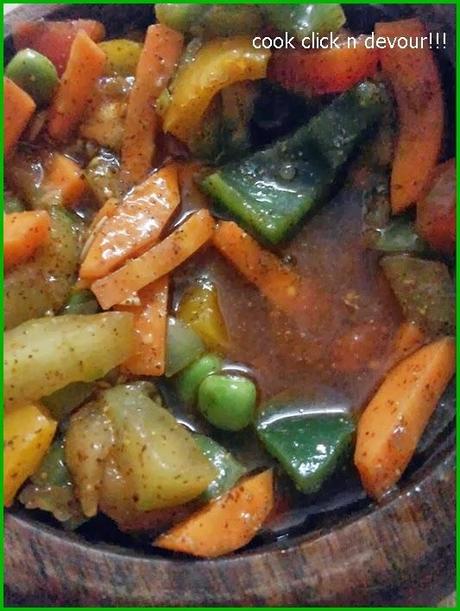 Notes:
1.You can also use vegetables like potato,chow chow,beet root etc.
2.Increase/decrease spice as per your taste.
3.Dl not mx the pickle at once after oil is added.
4.Even a drop of water spoils the entire pickle,so make sure you thoroughly dry any moisture in veggies,knife vessel etc.