mixed vegetable kurma - easy sides for rotis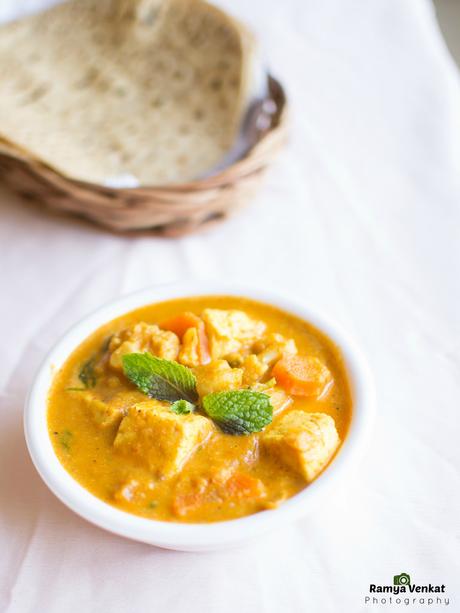 mixed vegetable kurma or curry - onion tomato based curry with coconut and poppy seeds.this is best for rotis and naan varieties and you can use veggies of your choice.I added carrot,cauliflower,potato and paneer in this recipe.
the recipe is in draft since past two months and this is the first recipe i shot when i shifted to new home.The lighting is good here and now am taking shots to practice here with this lighting.I made this kurma one day ,when i was so bored of making sambar and stews with veggies.I did not planned to add coconut in the recipe but i need some consistency and i always look for a thick gravy consistency which is perfect to serve with rotis.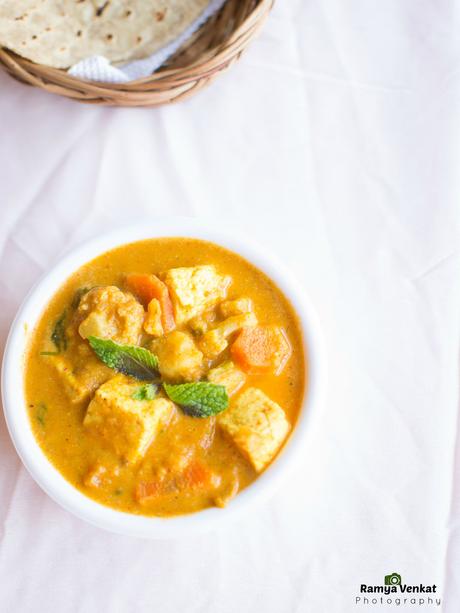 I added poppy seeds along with it to balance the heat and it has a wonderful property to give balance effect when we add more masala ingredients in the recipe.I made roti in grill pan which is so easier to make nowadays and there is no need for more oily rotis.It stays soft till evening and this is so good na?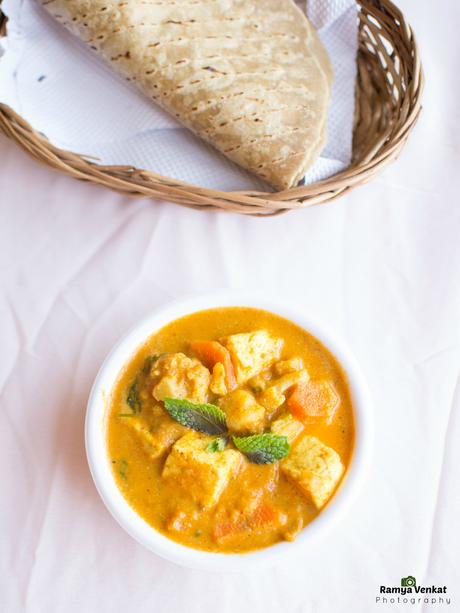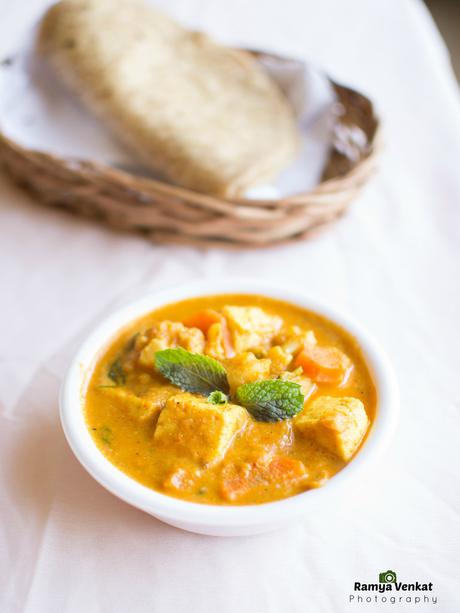 lets move on to the recipe.,The recipe is more kinda onion tomato based and i used boiling method for cooking onion and tomato before making it into a paste.I added 2 cashews and 3 almonds here and you can also add any one of it too in the recipe.Used my homemade garam masala in the recipe and it gives much flavor to the recipe.I added it in the final stage so that it will retain its aroma while serving.You can also replace fresh cream with whipped yogurt or milk.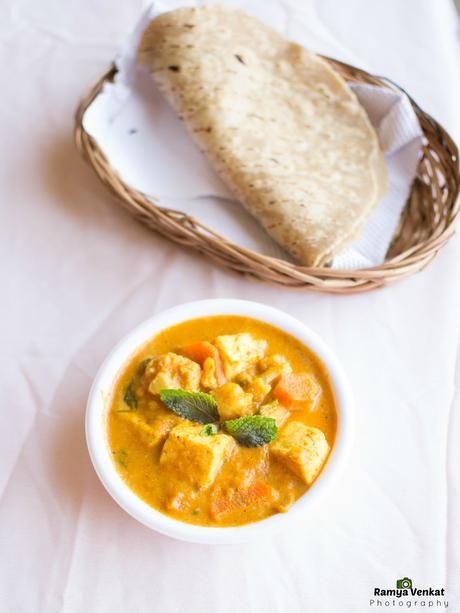 mixed veg kurma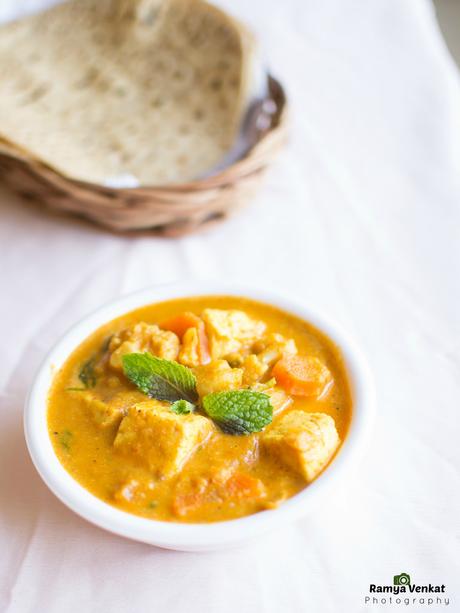 vegetable curry made with veggies,onion,tomato and coconut

Ingredients
mixed vegetables - 2 cups(cauliflower,carrot,potato and paneer)
onion - 2 roughly chopped
tomato - 2 roughly chopped
ginger garlic paste - 1 teaspoon
turmeric powder - 1/4 teaspoon
red chilli powder - 1 teaspoon
cumin powder - 1 teaspoon
coriander powder - 1/4 teaspoon
garam masala - 1 teaspoon
cashews ,almonds- 5 nos
green chilli - 1 no
fresh cream - 2 to 3 tablespoons
salt - to taste
mint leaves,coriander leaves - as needed
oil - as needed
cloves,cardamom,cinnamon and bay leaf - for tempering
Instructions
heat 1 teaspoon of oil in a kadai and saute roughly chopped onions till they get soft.Add tomato along with ginger garlic paste and saute it till the raw smell leaves.Add cashews to it and cool the mixture completely.Make a fine paste from it with enough water.

Meanwhile steam cook all the vegetables except paneer in steamer or in boiling water.If you are cooking vegetables in boiling water,then add potato first followed by carrot and cauliflower.Once it cooked and switch off the flame.
Heat ghee or oil in same kadai,add cloves,cinnamon,cardamom and bay leaf and roast it.Add green chilli and saute it.
Add the paste and saute it till the oil or ghee separates.Now add all the spice powders except garam masala.Roast it well and add enough water to cook.Once it get thick add the vegetables along with the drained water.
Add required salt and cook for 10 to 12 minutes till it becomes thick.Now add the paneer and cook it for 2 to 3 minutes.
Finally add fresh cream to it and mix it well.Cook it for a minute and sprinkle garam masala,mint leaves and coriander leaves over it.
Switch off the flame and serve.