Miu Miu is a trademark designer handbag of Italian fashion's amazing, cutting edge and trendy knows how to make all trendy ladies happy and proud. Miu Miu As always gives us a really nice parade, as always, Miu Miu ladies, feminine and ultra chic, even in winter, flowers can not fail, applied on bags of course. Miuccia Prada leads a parade on the catwalk-inspired interesting nineteenth-century Neo-Romanticism that has a good recovery is on the catwalk in life.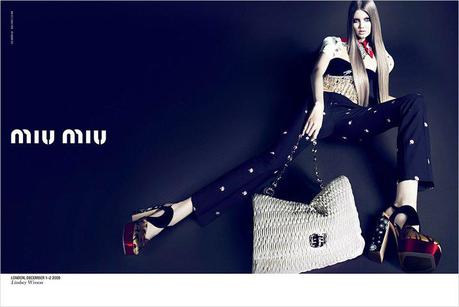 Parade is Miu Miu declined mostly in dark colors which are, however, interspersed by the occasional fluorescent orange and lavender, offered both in all their bags and it is really well kept and very obvious integrand becomes part of the collection. This is really very nice, we have simple models in tumbled leather and patent leather, handbags monochrome black, orange and lavender multivitamin.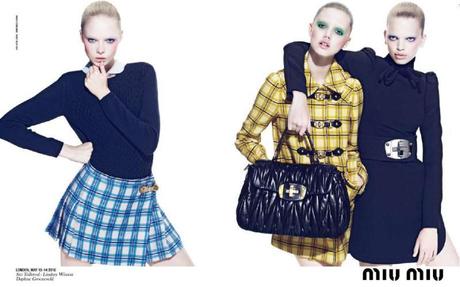 The Miu Miu bags show is very lovely; the choice of brilliant Miuccia Prada is to make winter a second spring, bringing the catwalk flowers and bright colors like purple and orange, mixed and interspersed with black-colored powder. All the bags Miu Miu offers us a preview or exchanges views on the catwalk that nobody can neither buy nor pre-order on any site or shop, perhaps we will see that the bags are in hand to star in a few weeks, meanwhile, see them together here are really beautiful!The collection autumn winter 2010 2011 offers beautiful and chic handbags all matching shoes.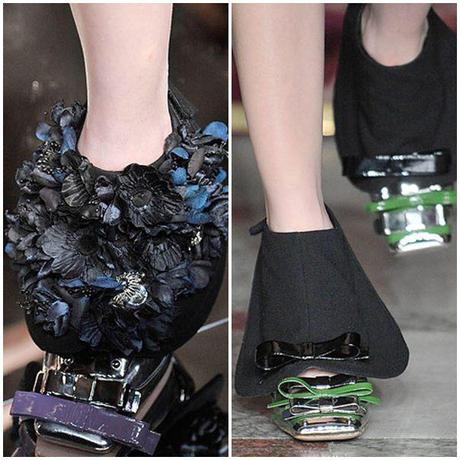 Two fashion bags of the collection are the most beautiful; we have a bag powder paint color simple and chic with double handles, a removable shoulder strap and a lovely bow on the front. The other bag is hand made of black leather on which many flowers are used in metal effect natto, handles paint and then big turn lock closure metal silver.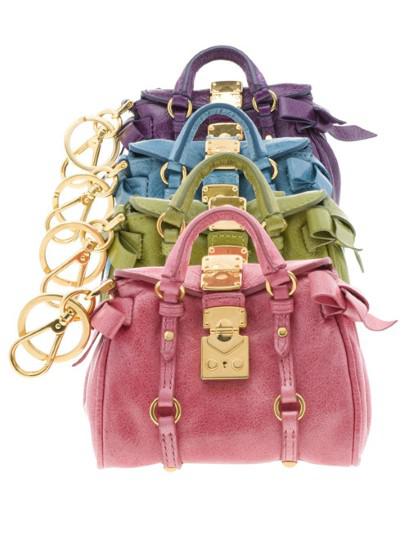 A delicious and romantic style in leather, simple, chic and charming, a bit like all the new Miu Miu collection, although in this case, being made of leather is suitable even more mature or even girls who do not like being covered with flowers and colorful things that make little girls. The new Miu Miu handbags are really stylish accessory and class that you can wear with any type of look, you will surly like it because it can release an outfit more elegant but at the same time give a refreshingly simple look.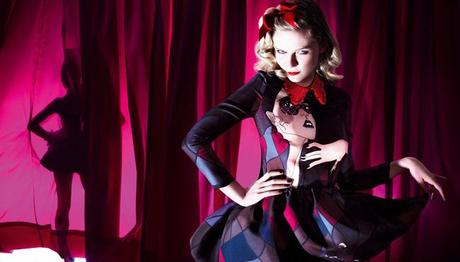 The Italian clothing brand Miu Miu has just submitted its proposals for the next fashion season. An interesting selection of pieces that have the opportunity to show off with style chic and women to protect us from low winter temperatures, but without losing an iota of good taste, because comfort, design and glamor need not be at odds.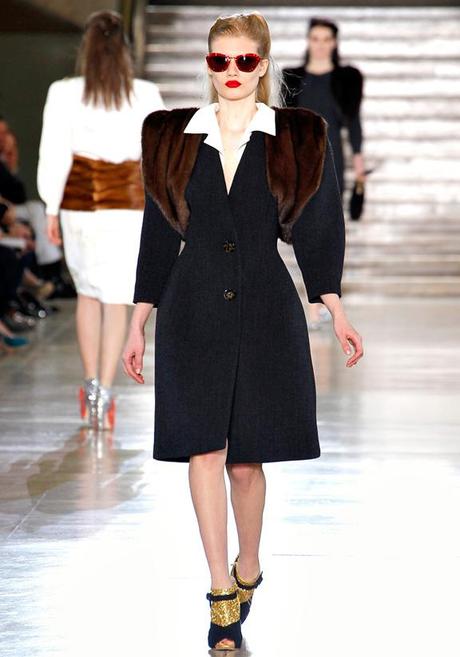 The gateway of Paris was the place chosen for presenting global trends, where one of the most important notes were the pads and prints inspired by nature.In many of her dresses and coats can appreciate the details more characteristic floral oriental culture, adding a touch feminine and romantic our style.The pads are another of the most striking trends that combine perfectly with a tight forms that help to highlight the curvaceous female figure. This proposal is a look back, another example of what retro is more fashionable than ever.As for the colors stand out above all the black and gray clothes, so typical of the winter season. In general it is a minimalist collection that focuses on straight lines and clean lines.In other plabras, some looks specifically aimed at women more sophisticated and looking for a discreet and elegant clothing care, both for day to day in the office, and for the most important evenings.
So do not wait for any of your friends tell you about it, and get ready to discover what the trends for the next season, where for the moment we know that the vintage touch continue to chair our wardrobe. The novelty will be the pads, which retrieves and updates Miu Miu to suit the current style.