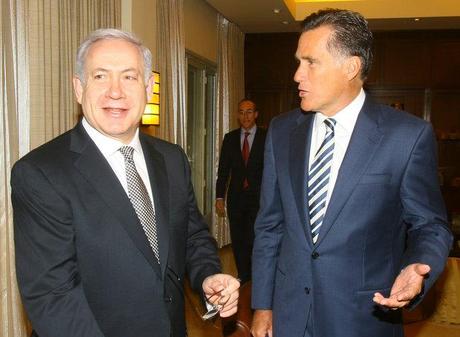 Israeli Prime Minister Benjamin Netanyahu and presumptive Republican nominee Mitt Romney.
Presumptive Republican nominee Mitt Romney will visit Israel during the summer and hold talks with the country's prime minister and other senior officials. The former Massachusetts governor is keen to show that, as head of state, he would nurture the U.S.-Israel relationship, unlike President Barack Obama who has not traveled to the Jewish State since he won the 2008 election.
According to Ron Dermer, Prime Minister Benjamin Netanyahu's senior adviser, Mr. Romney will also meet with Israel President Shimon Peres, U.S. Ambassador Daniel Shapiro, and the prime minister of the Palestinian Authority, Salam Fayyad.
Mr. Dermer also pointed out that Mr. Romney was "a strong friend of Israel" and that his visit would make the relationship between the two countries even stronger.
During the campaign, the former governor indicated that his first overseas trip as president would be to Israel. In addition, two weeks ago he told some 250 members of the Faith and Freedom Coalition that he would establish a strong working relationship with Israeli leaders if he was elected president in November. When asked how he would ensure that the ties between the two countries grew closer and stronger, Mr. Romney stated that his policies would be totally different from those of President Obama's.
"I think, by and large, you can just look at the things the president has done and do the opposite," the former governor said to laughter.
Mr. Obama's re-election campaign spokesman, Ben LaBolt, asked Mr. Romney to elaborate on his comments, while pointing out that the Obama administration had had a pro-Israel stance all along.
"Governor Romney has said he would do the opposite of what President Obama in our relations with Israel. Now he must specify how — does that mean he would reverse President Obama's policies of sending Israel the largest security assistance packages in history? Does it mean he would let Israel stand alone at the United Nations, or that he would stop funding the Iron Dome system? Does it mean he would abandon the coalition working together to confront Iran's nuclear ambitions?" he asked.
Mr. Romney visited Israel three times in the past. He first flew over with his family as part of a trip with the Mormon Church. He later took part in the Herzliya Conference in 2007. He also spent a few days in the Jewish state in early 2011 as part of a trip to Afghanistan and Jordan.