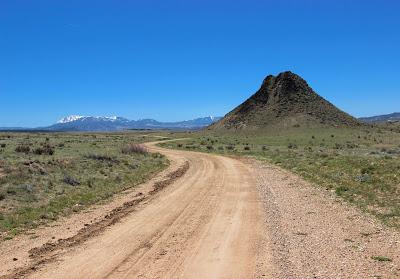 On a chilly afternoon in late November, photographer Simon Nunes Carvalho stood in "the most romantic and beautiful country I ever beheld." The high snow-covered Rocky Mountains formed the horizon to the west for as far as he could see. Nearby was Huerfano Butte (the Orphan), "which rises perpendicularly to the height of four or five hundred feet, from a perfectly level valley … like a mammoth sugar loaf." Carvalho made several views of the butte and surrounding area, recording the images not as digital files nor even on film, but on delicate silver-plated copper sheets. Daguerreotypy was his specialty.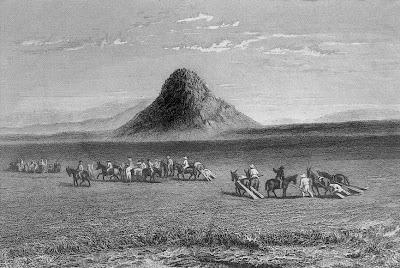 An artist's rendition of Huerfano Butte, from a daguerreotype by SN Carvalho (Fremont 1887).
Just two months earlier, Carvalho had been in New York City demonstrating his new protective varnish for daguerreotype images. There he met Colonel John Charles Fremont, who just happened to be looking for a daguerreotypist. Fremont invited him to join an exploratory expedition into the wilds of the American West, and Carvalho quickly agreed:
"I impulsively, without even a consultation with my family, passed my word to join an exploring party, under command of Col. Fremont, over a hitherto untrodden country, in an elevated region, with the full expectation of being exposed to all the inclemencies of an arctic winter." (All Carvalho quotes are from the 2004 edition of his book.)
The goal of the expedition, Fremont's fifth, was to find a railroad route across the
central
Rocky Mountains, an alternative promoted by his father-in-law, Senator Thomas Hart Benton. Benton and Fremont were strong abolitionists determined to deny southern pro-slavery states the benefits of a railroad. If an expedition could cross the central Rockies
in winter
 by horseback and foot, then no one would doubt the feasibility of the route. This would be Fremont's second attempt. The first, in the winter of 1848, was a horrible failure, with ten men dying from cold and starvation. Yet Fremont had no qualms about trying again.
The route would be documented with photographs. Though expensive, gear-intensive, time-consuming, and difficult in general, they had immense power 
…
photos were truth
! Unlike sketches and written descriptions, they weren't subject to interpretation and artistic license (then).
Fremont considered two technologies. Daguerreotypy, then at its peak, produced a positive image essentially in one step, but it was a tricky process, and the resulting image was fragile. In contrast, the newer cheaper wet-plate technology produced a negative image from which paper prints could be made as needed. There were clear advantages to the new process. Most notably, multiple copies could be printed from a single negative. But wet-plate photography required a darkroom, which would necessitate adding at least one more mule or even an entire wagon to the expedition. So Fremont opted for daguerreotypy.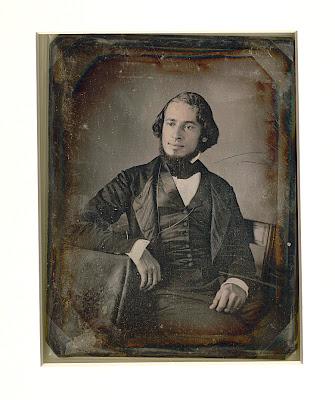 Daguerreotype of Solomon Nunes Carvalho, ca. 1850 (Library of Congress).
The expedition departed St. Louis in early September, 1853. Near the end of November, they reached Huerfano Butte at the base of the Rocky Mountains, north of today's Walsenburg, Colorado. "Col. Fremont expressed a desire to have several views of it from different distances" so Carvalho and four others stayed to make views (landscape photos), while the expedition continued west. By this time, the procedure was routine.First they unloaded equipment and chemicals, carried on three or four mules balanced with other gear (1). This was not a trivial task; much of the time needed to make daguerreotypes was spent loading and unloading mules. When everything was ready, Carvalho carefully and thoroughly cleaned a silver-plated copper sheet, and buffed it to a mirror-like sheen. He sensitized it over iodine in a closed (dark) box, put it in a light-tight holder, and transferred it to the camera. The protective cover and then the lens cover were removed to expose the silver coating to light, creating a latent image. Carvalho had to choose an exposure time based on light level. Even a sunny day could require as much as a minute, especially in the low light of November.The exposed plate was covered again, and moved to the box for developing. It was held over hot mercury until the image appeared. If it was satisfactory, Carvalho fixed it with an appropriate solution, such as sodium thiosulfate or salt (source). Perhaps he then applied a coat of his protective varnish.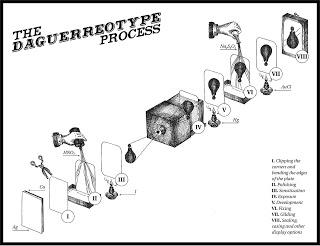 Click on image to view details (source).
After the views had been made, they carefully repacked everything and loaded the mules. Finally they left, hurrying west to catch the expedition. But it was late November and the day was short. Soon it was too dark to continue. They camped among pines on the slope of a nearby mountain, building a huge fire for "the weather was intensely cold and disagreeable." They had buffalo robes for bedding, but nothing to eat or drink. They went to bed hungry and thirsty—a taste of what was to come.
Carvalho would spend nearly two months making daguerreotypes in the Rockies, in situations far more demanding than the Huerfano Valley. Two years later, he would write that he "succeeded beyond my utmost expectations." Yet by February, success was no longer certain. For weeks the men had had little to eat, sometimes going several days without food. The horses were starving. Whenever one died, it was quickly butchered, cooked and eaten. Eventually none were left, yet many of the men could barely walk. Fremont announced that all unnecessary gear would be cached so that they could ride the pack mules. Then a man died. Because the ground was frozen, burial was impossible. They could only continue on, surely wondering who would be the next to go.
Amazingly, good fortune soon intervened. That same day, the expedition stumbled upon a road and followed it into Parowan (Utah). Residents were shocked, noting that all members were in a state of starvation. Carvalho and topographer Egloffstien were the worst—sick, weak and terribly malnourished. When the rest of the expedition continued west, the two men stayed in Parowan to recover. Carvalho then traveled to Salt Lake City, where he painted portraits and took notes on Mormon life. He went next to California, living a short time in Los Angeles before returning home.
In 1856, Carvalho published a detailed account of his experiences: Incidents of Travel and Adventure in the Far West with Colonel Fremont's Last Expedition. He was especially proud of his daguerreotypes, made "on the summits of the highest peaks of the Rocky Moiuntains
… often standing to my waist in snow, buffing, coating and mercurializing plates in the open air." How strange then that the fate of those images is unknown! None were published, though several drawings based on them appeared in Fremont's memoirs. Carvalho's book included no images at all.
It appears the daguerreotypes were not abandoned in the Rockies, not written off as unnecessary gear and chucked into the snow. Eventually they were transported east, perhaps with Fremont. It is said that he hired photographer Matthew Brady to make copies (wet-plate photos). Indeed, a daguerreotype of a Plains Indian village in Kansas Territory, surely Carvalho's, is part of the Brady collection at the Library of Congress. It matches two written accounts from the expedition, by Carvalho and by muleteer James Milligan.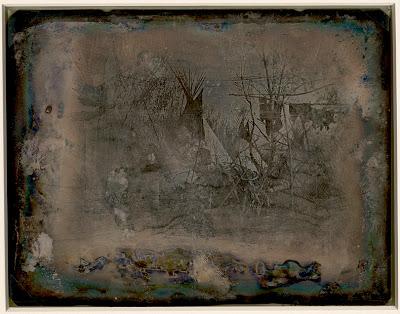 Daguerreotype by Carvalho of Plains Indian village in Kansas Territory (Library of Congress).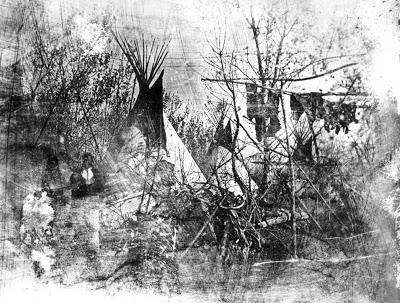 Photo of Carvalho's daguerreotype, enhanced to show details (LOC, via this source).
The rest of Carvalho's daguerreotypes, as well as Brady's copies, may have been destroyed in a warehouse fire, as is often mentioned. Yet the question of their fate remains open (2). In his introduction to Carvalho's book, Kahn is noncommittal, stating only that "
some believe
they were stored in a warehouse and were burned in a fire" (italics added).
Perhaps good fortune will again intervene on Carvalho's behalf. And how wonderful it would be if his daguerreotypes were found scattered among private collections, or in a dusty box tucked away in some attic! Those old views could add so much to our vicarious participation in Carvalho's amazing adventure.
"[the Huerfano Valley] is by far the most romantic and beautiful country I ever beheld. Nature seems to have, with a bountiful hand, lavished on this delightful valley all the ingredients necessary for the habitation of man … [but] will the progress of civilization ever extend so far in the interior?" – Solomon Nunes Carvalho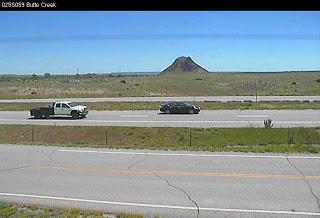 View east across Interstate Highway 25 at Exit 59, Butte Road (Colorado DOT).
About the Geology

Carvalho called the Orphan an "immense pile of granite rock" … which it's not. But Carvalho was no geologist, nor was anyone on the expedition. In 1869, Ferdinand Vandeveer Hayden encountered it during a geological survey of Colorado and New Mexico. In a report later that year, he wrote:
"Huerfano Butte rises up in the midst of the plain in the valley of Huerfano Creek. The rocks are basaltic, some portions a true syenite. … It seems to me that this is a dike, thrust up before the super incumbent beds were swept away, and that the igneous material never reached the surface in a melted state. The butte is about two hundred feet high, the rocks being of a dark steel-gray color. There is no evidence that the underlying strata have been disturbed by this butte."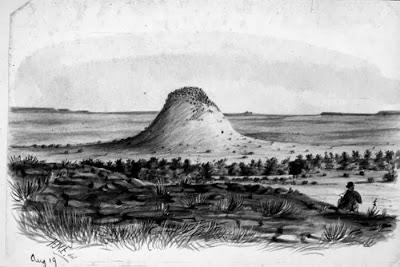 From Hayden's 1869 report.
Current descriptions of Huerfano Butte vary. A recent
online source
calls the rock alkali-basalt. Durant (1989) refers to it as "a syenitic plug cut by a gabbroic dyke." Penn's 1995 description is probably the most accurate. He describes the butte as biotite olivine alkali-gabbro cut by two dikes of different compositions—biotite monzonite and alkali lamprophyre.
Whatever the rock type(s), the Orphan most likely is a hypabyssal plug—i.e., made from magma that cooled and solidified beneath the surface, though not at great depth. Erosion later removed softer sedimentary rocks to reveal a resistant plug about a hundred feet in height (not four or five hundred as Carvalho reported; he tended to exaggerate, probably because he was so excited about his adventure). It's part of a cluster of volcanic and shallow intrusive features dating from about 25-20 million years ago, possibly associated with the opening of the Rio Grande Rift to the west and south. For more details and discussion, see Huerfano Butte, Colorado: The Orphan.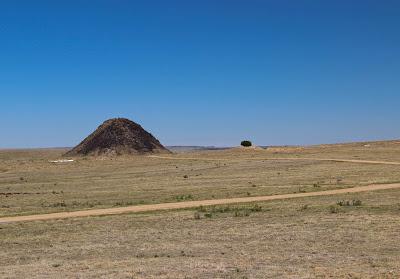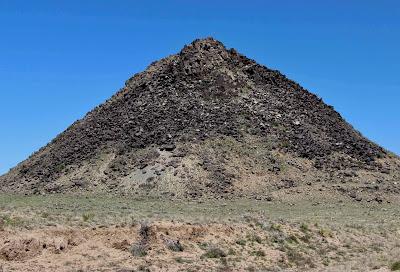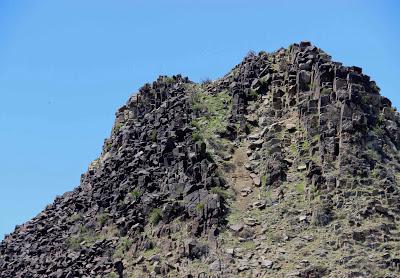 Footnotes
(1) In an interview, the producer of a documentary about Carvalho described the field daguerreotypy differently, even though Carvalho's book was his main source: "It was extremely labor intensive to create these things… Carvalho had wagons and wagons, I think there were three or four or five, filled with gear."
(2) When asked "What happened to all the other photographic plates?" the documentary producer replied, "I don't want to give away too much. We feel like our research does provide an answer."



Sources (in addition to links in post)
Many thanks to Mike of CSMS Geology Post for suggesting I add El Huerfano to my itinerary, and for information about its geology and history. Check out his post about Huerfano Butte.
Carvalho, SN. 2004 (originally published 1858). Incidents of travel and adventure in the Far West with Colonel Fremont's last expedition; introduction by AF Kahn. University of Nebraska Press.
Durant, DG. 1989. Evolutionary aspects of Huerfano Butte. Honours BS Thesis, McMaster University. PDF
Fremont, JC. 1887. Memoirs of my life. Chicago and New York, Belford, Clarke & company.
Hayden, FV. 1869. Preliminary field report of the United States Geological Survey of Colorado and New Mexico. Washington: Government Printing Office.
Library of Congress. The daguerreotype medium (in Collection Overview). http://www.loc.gov/pictures/collection/dag/medium.html (accessed 4 June 2017).
Penn, BS. 1995, What's the Scoop on Huerfano Butte? Abstract of paper presented at Rocky Mountain AGU meeting. http://www.spanishpeakscolorado.com/Huerfano_Butte/AGUABS.html (accessed 4 June 2017).