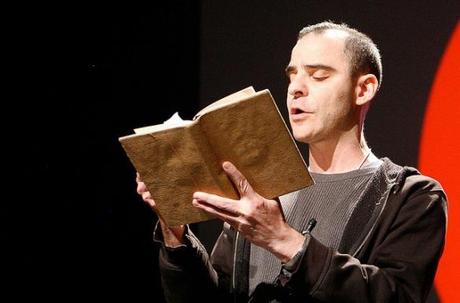 David Rakoff reads before a crowd in 2008. (CC by Pop!Tech)
This past August, we lost David Rakoff — a gifted humorist and storyteller who has been affectionately called Gen X's Oscar Wilde and "one of the best pointed pessimists left". Like many other fans, I was introduced to David's work through the hit podcast This American Life and have since put his many books on my to-read list.
His wry humor and keen observational skills, paired with his distinctive voice, helped make TAL the beloved podcast that it is. (And, it's also nice to be able to say he's Canadian.)
David's first cancer was discovered when he was in his early 20s — and he was only 47 when he died of sarcoma. It's a terrible thing, and a damned shame.
I'm thinking about him tonight because I recently re-listened to Our Friend David, a TAL episode entirely dedicated to his writing, and I feel compelled to share a particularly beautiful paragraph from his autobiographical piece on realizing he liked men.
Have you ever had one of those moments when you know that you're being visited by your own future?

They come so rarely and with so little fanfare, those moments. They're not particularly photogenic.  There's no breach in the clouds to reveal the shining city on a hill. No folk dancing children outside your bus. No production values to speak of.

Just a glimpse of such quotidian incontrovertible truth that — after the initial shock of the supreme weirdness of it all — a kind of calm sets in.

"So, this is to be my life."
Thank you, David, wherever you are. We are worse for all the things we didn't get to hear you say.
Listen to Our Friend David here.