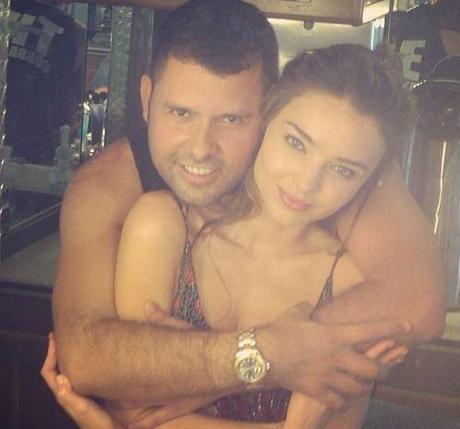 (Instagram.com/mirandakerr)
-Miranda Kerr raised some eyebrows after posing for sexy pic with a man who's not Orlando Bloom, and then raised something else when she was photographed suffering a double(!) nip slip.
-Another day, another Amanda Bynes breakdown. She was kicked off a private plane when she didn't have any I.D. and demanded the pilot "Google her" to verify her identity. This follows her claims that InTouch doctored photos of her "drug-fueled house party." The proof? Her toes.
-Ellen's take-down of Abercrombie & Fitch is great.
-Even though everyone's clamouring for an exclusive interview about her surgeries, Angelina Jolie isn't talking.
-Brad Pitt is talking enough for the both of them, though. He's revealed that he thinks he suffers from a condition called prosopagnosia that makes it hard to remember people's faces. Uh…sorry?
-Meanwhile, Brad continues to bust his butt to keep World War Z from being a bust, showing up at an early screening in New Jersey to hand out t-shirts.
-Brad's BFF George Clooney was spotted enjoying dinner in London this week.
-Speaking of dinners in London, the latest issue of GOOP kills me. I love that Gwyneth Paltrow makes it seem like she kept having to leave the party to prepare dinner. They were at Mark's Place, which is a renowned private supper club that has a Zagat rating of 21. Take a seat, Gwynnie — the chefs got this!
-Julianne Moore talks about all the crap interview questions actresses are asked that actors aren't.
-Along those lines, Sony studio chief Amy Pascal says in a candid interview that the Hollywood system's geared for women directors to fail.
-Lady Gaga is making her big screen debut in Machete Kills. Watch the (very blurry) trailer.
-Janet Jackson can afford a whole lotta escapades now — she just joined the ranks of Hollywood's billionaires' club.
-Some dude pretended to be Psy at Cannes and everyone fell for it, proving my theory that if you walk around with bodyguards you can get into anywhere.
-Meanwhile, Nicole Kidman continues to kill it in Cannes. I like this look, too. She loses me a bit with these pants though.
-Andrew Garfield dressed up as Spider-Man to play basketball with some New York City kids.
-I don't usually watch Nashville but maybe I would if the drama were as exciting onscreen as it is off. There's lots of talk that the next season will be filmed in L.A. to appease Connie Britton, and that's not making the locals happy. This comes on the heels of reports there's tension between the ABC and Lionsgate,  not to mention the dishy editorial a producer's wife wrote after the show didn't renew his contract.
-I really hope someone makes a "Morgan Freeman Is Sleepy" meme out of this.
-The best thing about Arrested Development's imminent arrival (besides the fact that we get new episodes in a few days)? We're also swimming in cast interviews. Here's one with Jason Bateman and David Cross, and another with too-close cousins Michael Cera and Alia Shawkat.
-Meanwhile, someone needs to make these Arrested Development-themed emojis downloadable STAT!
-People.com just posted the world's most terrifying GIF of Katie Holmes.
-Apparently, Beyonce ordered a nicoise salad, so everyone has backed off the pregnancy speculation because tuna is bad for the baby basket or something.
-Wait, were Ian Somerhalder and Nina Dobrev engaged?
-Amanda Seyfried says she misses her boobs, which she lost after she was pressured to lose weight for Hollywood.
-Katy Perry might have a vitamin problem.
-I had no idea Ron Livingston and Rosemarie Dewitt were even together, let alone that they were expecting. In any case, mazel!
-If you're interviewing Will Ferrell, it's a good idea to turn off your phone. Otherwise, your mom might call and he'll pick it up.
-Jonah Hill was spotted smooching his ex-girlfriend. Does that mean he's done bro-ing around with Leonardo DiCaprio?
-Speaking of Leo, this photo of him partying in Cannes says it all, doesn't it?
-I'm glad that Tatiana Maslany got a Critic's Choice nomination. Orphan Black isn't perfect, but she's astounding in it. (Speaking of Orphan Black, the pilot is available for free on iTunes right now.)
-Jennifer Aniston shows a lot of skin in the new We're The Millers trailer. (The film doesn't look great, but Ken Marino and Nick Offerman are both in it so I'll give it a chance.) Also, did anyone read her interview in EW a couple of weeks ago where she completely trashed her character's soccer mom wardrobe? Doesn't she know that soccer moms are her target demo these days?
-I love this fake horror movie trailer starring Anna Camp. FOMO is scary.
-The trailer for Don Jon, written and directed by Joseph Gordon-Levitt, has arrived. Early screenings are earning raves – and it's easy to see why.