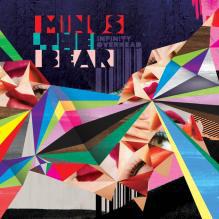 For Whom the Bear (Rocks and) Rolls
By Eric Webb
As someone who doesn't necessarily enjoy excessive Cobain-growls, I hope that Seattle doesn't sound like Nirvana all the time. Instead, I hope that when I make it out there there's a feel of the Space Needle's own Minus the Bear wafting in the rainy air.
Since 2001′s This Is What I Know About Being Gigantic, the quintet has been taking post-rock to the shed out back and beating the rock back into it. There's plenty of low-key electronic beats, hazy flourishes and synthy miscellany woven into the band's dang solid indie rock, and most importantly, there's that undeniable mood of kinda-ambient-kinda-soulful chill throughout their entire catalog. Indeed, no band sounds like Minus the Bear, as Infinity Overhead will remind you.
"Steel and Blood" is as good a starting point for any Minus the Bearcub (a name for novice fans that I just made up that I hope sticks). It's got all the hallmarks: the smart rock sensibilities, the subdued emotion, the electronic extras. There's also a mathematical precision to this and every Minus the Bear song, a layering of various sonic elements with a metronome's attention to tempo and tight composition, all punctuated by Jake Snider's uncomplicated vocals. Also, this song is about a car crash/destructive relationship/(insert conflict metaphor).
"Lies and Eyes" features the first of a couple assertive guitar solos, which sometimes feels a little too disconnected from the rest of the song. It's impressive, but if you're looking for some Hendrix voodoo string magic, this isn't the right aisle. "Diamond Lightning" is particularly nice, though, a relaxed number that recalls American Football or Jeniferever. Free of some of Infinity Overhead's more aggressive rock trappings, the song wears its languid tone well.
Speaking of Nirvana (it was in the first sentence of this review, if you forgot), "Toska" is one of several moments on the album that will conjure associations with the Foo Fighters, but maybe if Dave Grohl had just woken up from a long nap and was also a cyborg. You can easily find such a sound in "Zeros," which is also how the future will sound when we're all Grohlborgs. The song, for reasons difficult to pin down, sounds more like the 1990s than Dennis Rodman eating a pack of Dunakroos.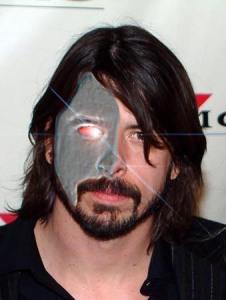 The future is now.
The only downside to all that artistic consistency? Minus the Bear albums tend to bleed together a teensy bit. Even 2005′s sublime Menos El Oso fell into the trap, and let's not lie: It's somewhat a side effect of Snider's disaffected voice. (Which is still great! Totally!) However, even if you lose yourself in the flow, Infinity Overhead is a pleasant expanse to fall into.
Eric's Picks
(1) "Steel and Blood"
(2) "Lies and Eyes"
(3) "Diamond Lightning"
(4) "Toska"
(8) "Zeros"