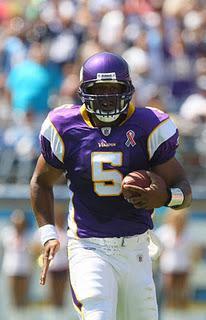 Photo: Zimbio.com
- Troy Ballard
The Minnesota Vikings have made the decision to release quarterback Donovan McNabb from the team, and the question now becomes, where will the inconsistent veteran land in a quarterback needy NFL?
Given McNabb's recent lack of success, it would seem that in most cases he would be headed directly to retirement. However, this season seems to be the year of injured quarterback, and a few contending teams are in the market for a quarterback that can just manage a game. But which NFL teams are most likely to pursue McNabb?
Indianapolis Colts 
As far as one year rentals go, McNabb would be a near perfect fit for the Colts. The winless Indy team has been floundering offensively with inept back-up Curtis Painter as the team's starting quarterback, and they need some sort of change. With Peyton Manning's future in question, and Indianapolis playing for Andrew Luck and April's draft, it wouldn't hurt to bring in a veteran presence like McNabb to finish out the year.
If anything, McNabb would coast out the season, and maybe win a game or two to help the Colts' confidence.
Houston Texans 
The Texans looked really good this season. Then, in a matter of two weeks, they lost both their starting quarterback in Matt Schaub, and then their back-up in Matt Leinart. Schaub is likely done for the remainder of the season, and it would be a stretch to see Leinart back in the starting lineup.
Houston currently has rookie TJ Yates as their starter heading into next week, and they could use someone with NFL experience. Luckily, the Texans all but have the AFC South but locked up, and McNabb won't be put into a 'must-win' situation from his first start.
But come playoff time, this team needs a veteran taking snaps.
Chicago Bears 
Chicago is another team that has lost their starting quarterback, Jay Cutler, who was leading the Bears straight into wild card contention, is now done for the remainder of the season. The current starter is Caleb Hanie, who has not lived up to expectations, and has almost no chance of securing Chicago a wild card spot.
McNabb could fill into a team that has arguably the best running back in the NFL, and a solid defense, and he should be able to win games. Again, at this stage in McNabb's career, the Bears would want nothing more from him then to manage the game and not turn the ball over.
Of all of the teams in the market for a quarterback, the Chicago Bears need one the most. They are a legitimate NFC contender, and without a veteran taking snaps, Chicago might as well just bag the season.
Conclusion 
I really feel for McNabb, as since leaving Philadelphia he has found no success. I don't know if that is because of coaching changes, playbook differences, or lack of effort, but either way this second chance is McNabb's only shot at redeeming his career. One of these squads will pick him up, and McNabb could be a starter and playing playoff football once again.
Be sure to follow Beard and Stache on Twitter @BeardAndStache, and also Troy @TroyBallards, Like our Facebook page HERE!