Well it looks like the weather is definitely back to normal with the amount of rain the UK seems to be getting right now bye bye sunshine :( Even though it might be rainy the warmth still remains making it really clammy which is horrible and a nightmare to sleep in!
Deciding what to wear can be very tricky as it is still warm you still want to remain cool but but also keeping dry as much as possible so you want a jacket that will be lightweight and waterproof!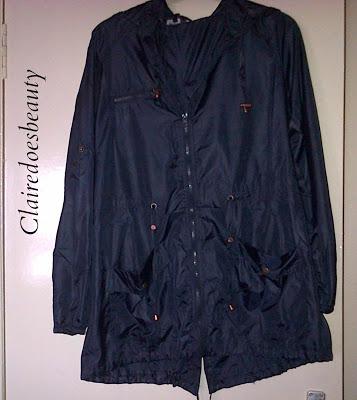 New Look Lightweight Parka
I had been on the hunt for one of these for a while and could never get one they where either out of stock or didn't have my size in store (the story of my life) so i opted for the online option as i can't lose that way :) I choose the color navy as i wasn't big on the other colors available and also as i don't own anything navy at all. The jacket itself is really lightweight and very true to size i am plus size so i got this in an 18 so i know when i fasten it it will actually do that and not stop and my chest area yes i have been blessed in that department but it can also be a nightmare to get clothes to fit properly! So i did a little dance when it fastened all the way up :D.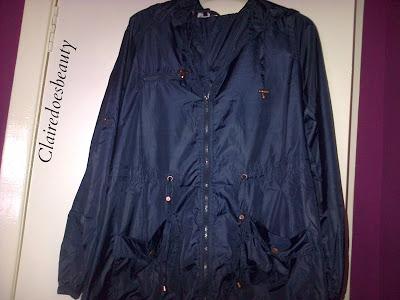 The parka also has a hood which is good if you forget you're brolly! It has a little zip detail at the top and two quite deep pockets which i love! There a set of three drawstring ties one at the top, middle and round the back also. The jacket itself comes in at £17.99 which is pretty standard price for new look.
Next on the list is socks! And who dosen't love sliding there feet into brand new socks? I know i do and socks to me are up there with pajamas super cosy feeling.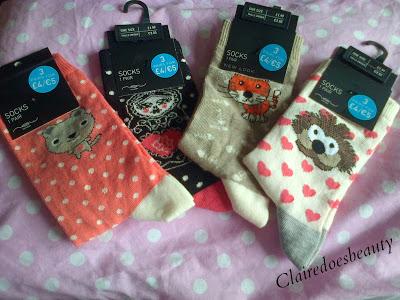 These ones where in the sale and where only a £1 each so i had to get more than one ovbiously! How cute are they really? What can i say they are just socks plain and simple! I am quite fussy when it comes to choosing a pair though why i don't know i am just weird when it comes to certain things haha.
There you have it my first teeny tiny fashion haul :)
What have been you're recent purchases?