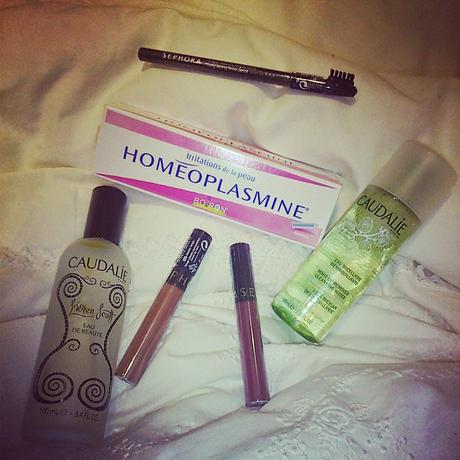 When Darren told me a few weeks ago that he would be going to Paris for work for three days, my first thought (after "can I go too?!") was Oooh...French pharmacies!! Any beauty blogger or beauty lover worth their salt are well aware that the French hold a veritable Aladdin's cave of products and brands when it comes to beauty, and their pharmacies are truly the cave of wonders! Stocking brands which we mere Brits can only find in very upscale or Central London pharmacies, or online, both with a very high price tag, the French truly know what they are doing when it comes to the beauty and skincare market, and I was very excited when Darren told me he would be heading there...so...obviously a list was drawn out! Now my list contained about 6 things, which can be found in pharmacies and 5 things, which can be found in Sephora (seriously people, we need to petition to get Sephora reinstated in London!) Darren was very good and went to 3...yes...3 pharmacies for me, to try and find my bits. The boy didn't do too badly. They were out of stock of a couple of the Bioderma bits, so I ended up with 3 pharmacy treasures - the Caudalie Beauty Elixr (L'Wren Scott limited edition bottle), the Caudalie Micellar water and a tube of Homeoplasmine.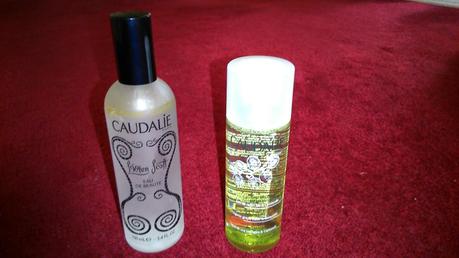 The two Caudalie products are divine! I fancied a change from my normal micellar water of choice, Bioderma, so I thought I'd give the Caudalie version a go! It's lovely. Does what Bioderma does and smells gorgeous. It's soothing and removed my make-up easily and effortlessly and the grape extract made it super hydrating.
The Elixr is a "beauty mist." The bottle is gorgeous (besides the point I know) It's plant based and soothes, hydrates and tightens the pores - miracle in a bottle. It sprays lightly onto the face and you feel instantly...well, I guess the word is "Ahhhhhhh." It has a lovely herby scent and makes an excellent refresher at any point in the day. I also spray it on before I moisturise in the morning and evening and it's just gorgeous really.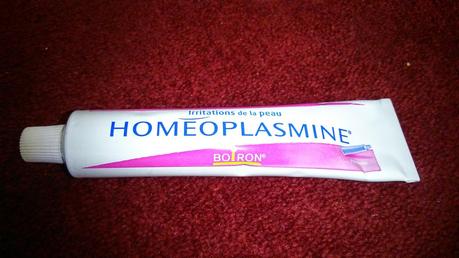 There has been a lot of hype about Homeoplasmine. A multi purpose balm or pomade, which has become a cult beauty favorite. It's talked about A LOT and I was keen to give it a go. It's been hailed as the "ultimate balm" and is a must-have for models, make-up artists, nail technicians...you name it. It's basically one of the items, like Vaseline, which helps soothe irritated skin, dry skin, sunburn, chapped lips, chapped skin...everything. It is also an excellent lip balm and a teeny dab on the old cheekbones makes them pop! Another score!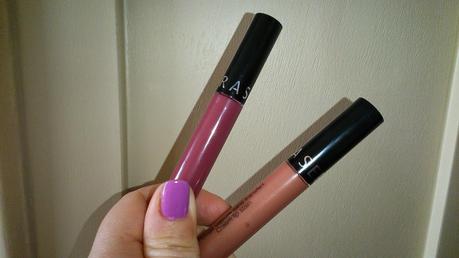 Next was Sephora. Sadly, they didn't have the Hourglass products I wanted, but Darren did manage to get his hands on a couple of the Cream Lip Stains and an eyebrow pencil complete with spoolie (don't you love that word?!) The Cream Lip Stains have had a bit of hype, so I wanted to give them a go. I opted for a nude shade and a deep berry shade - perfect for day and night. They apply easily and smoothly, like a lip gloss, but they have SO much pigment! Seriously, these are as pigmented as a lipstick but have the creamy consistency of a lip balm. The staying power is brilliant, however, as with most stains, they are slightly drying, but I popped on a dab of Homeoplasmine and, perfection! Love, love, love them!
Not much to say about the eyebrow pencil, except it is the perfect shade for my almost black eyebrows and glides on and blends out nicely. Job done!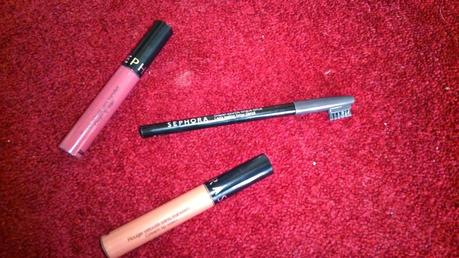 So there you have it. Not a bad mini haul really. The boy did good but I am already planning the next haul.
Have you tried out any of these products? What are your French Pharmacy must-haves? Enjoy x