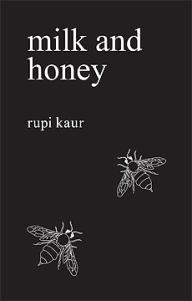 What's it all about?:
milk and honey is a collection of poetry and prose about survival. It is about the experience of violence, abuse, love, loss, and femininity. It is split into four chapters, and each chapter serves a different purpose, deals with a different pain, heals a different heartache. milk and honey takes readers through a journey of the most bitter moments in life and finds sweetness in them because there is sweetness everywhere if you are just willing to look.
What did I think?:
I'm finding this such a tough review to write on so many levels so I do apologize if my thoughts are even less coherent than usual but this book had such an enormous impact on me that to be honest, I'm not quite sure where to start. I'm not particularly well versed in poetry to be fair – I studied some in my English Literature A Level but it was mainly classical poetry rather than anything contemporary. With poetry I think it's such a personal thing sometimes, what works for one person might not work at all for another but if you do find that style that fits your particular niche, it's so worthwhile all the searching that you might have done and that's what I found with Milk And Honey.
I had heard so many great reviews about this collection from other blogs, bookstagram and book tube and although I knew it was going to be quite hard-hitting, I was determined to discover it for myself and form my own opinions. Well, it hit me with a sledge hammer with all its rawness and pure honesty and I found the simplicity of the prose not only beautiful to read but very effective, especially in eliciting such a range of different feelings (bad and good) that I felt quite emotionally drained at the end of it. I posted a couple of the poems that spoke to me personally on my bookstagram as I was reading it and developing those strong feelings, and without going into too much detail (because…DIFFICULT!), I'd just like to share a couple of those now:
it is your blood
in my veins
tell me how i'm
supposed to forget
and:
a daughter should
not have to
beg her father
for a relationship
There are so many more I could show you but these are the two that had the most powerful affect on me. So simple and succinct yet they gave me the most dramatic sentiments that at times, I felt I had to take this book quite slowly for fear of breaking down completely. The collection is divided into four sections namely The Hurting, The Loving, The Breaking and The Healing and each short poem slots perfectly into these categories and is so amazingly poignant. They aren't necessarily always sad, there's a great amount of positivity, optimism for the future and a strong, feminist message in the poems (which I always appreciate) but it just so happened that the ones that had the biggest impact on me happened to be a little bleaker than others.
This collection isn't going to be for everyone. I understand the author has received a lot of stick over whether these are genuinely good poems or just great Instagram/Tumblr posts. As I mentioned before, poetry is such an individual thing and if you find an author that speaks to you, like I'm sure she speaks to many others, hang on to that and enjoy it. There's always going to be people who don't connect with certain things like others do and that's absolutely fine, wouldn't the world be so boring if we all liked the same thing? This is certainly a book for my favourites shelf that I'll be dipping in and out of again and I'm really looking forward to reading her second collection, The Sun And Her Flowers which I bought recently.
Please note: Be aware, there are trigger warnings in this book for rape and sexual abuse if you are particularly sensitive to these topics.
Would I recommend it?:
But of course!
Star rating (out of 5):

Advertisements
&b; &b;