While I am definitely guilty of spending more than my fair share of money at clothing store chains, I really enjoy supporting smaller businesses too. Not only do you find more unique, personal clothing (anyone else every get to an event and then realize there are 4 people wearing your dress?) but you're supporting a small business! Always good. 
I am always at a loss to find small clothing boutiques and stores, however, particularly when they aren't local.  So, I was really pleased to discover Miinto. Haven't heard of it? Well, Miinto is an online fashion shop that brings together a variety of independent shops and boutiques in one curated, online space. Started in 2009 in Copenhagen by two Danish entrepreneurs, Miinto has since spread to the United States and parts of Europe, and is focused on high quality fashion and accessories for men, women, and children (you can read more about their background here).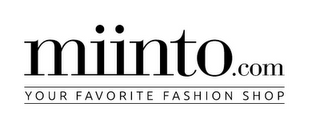 The site is really great. It brings together a variety of clothes, accessories, jewelry, and shoes !  Check it out! And what's more, if you like both MCAM and Miinto on Facebook, you can get a $15 giftcard to spend on Miinto!