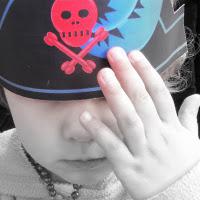 It's no secret that migraines are bad news... if you suffer from them; I'm sorry.  I'm sorry because I know how bad they are.  I've had one for the last two days (feeling better this afternoon), but suddenly, now that I'm typing... I'm not up to blogging - sorry. 
(And sorry to my daughter Mimi who's pirate hat repositioning photo I borrowed, as it sort of looks how I feel!)
Til then - take care.