Hey guys, for you today I have a review on an electrical product - the Micro Ped,by Emtoi.
I'm not a massive fan of feet, so I definitely wont be showing you pictures, but we all have to care for them.
I spend a lot of time on my feet, from work, and I absolutely adore walking. My feet tend to become read tough and rough, and this is something I really don't want.
Whilst on holiday, in Greece, my boyfriend and I tried a fish foot spa - and this left my feet feeling so some and amazing, but I obviously can't take them home, so I was excited to try a product that offers a way to remove hard skin.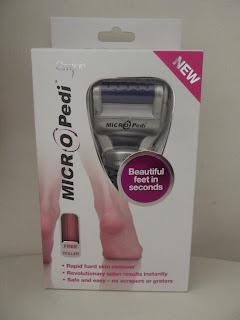 With the Micro Pedi - you get the "Micro Pedi", 2 rollers and a cleaning brush.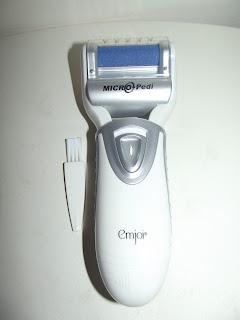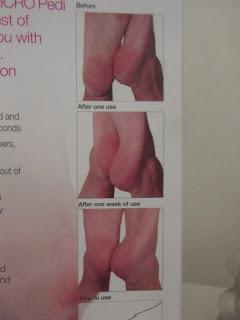 This is the expected results after using the Micro Pedi. It suggests you will have a noticeable difference after just one use.
How does it work?
Basically the rollers, in the Micro Pedi, spin 360degrees quickly against your sin to gently remove hard and rough skin. It gently and effectively buffs away dry, hard and rough skin from the souls and heels in seconds.
Does it work?
As I have mentioned, my feet have been so rough and hard lately - so I was excited, and apprehensive to see if it actually works. I put two batteries into the slots, and put the roller again my dry skin. I gently moved the Micro Pedi up and down my foot against my dry skin. I only used it for a few seconds per each part of my skin (as it says in the instruction manual).After just one use I didn't notice difference in the look of my skin, however - when I felt it, it felt so soft. I left my skin smooth, where rough had been, and my feet felt incredibly soft after just a few minutes of work. After the first use, I used it daily in the evenings (after work) to see if there was any more difference). After a week of use, I have noticed the appearance of my dry skin looks so much better. It is only the colouring of this area that is still different. My skin is soft to touch, and a look more supple. They Micro Pedi has definitely improved my skin on my feet, they feel (and look) normal again.
Also, to be said, it isn't an unpleasant feeling when you use it. For myself, it just created a tickling sensation - as I have ticklish feet.
Any negatives to this product?
As I am totally honest, I thought I'd say this. The only difficulty I had with the product was getting the batteries back out. I had to slam the bottom of the "machine" onto my hand repeatedly to get the batteries to budge. With that said, the actually performance of the Micro Pedi is faultless (for me).
Where to buy?
You can read more about the Micro Pedi on their website, if you click
here
. It retails at £39.95
*
but is currently on an offer, where you save £5. You can buy it on the Lifes2Good website, if you click here.
If you have rough feet, I would definitely recommend it. It work so well, and efficiently for myself (and my boyfriend as well).
Have you tried it? What products do you use on your feet? I'd love to try some new ones.
As always, thank you for reading!