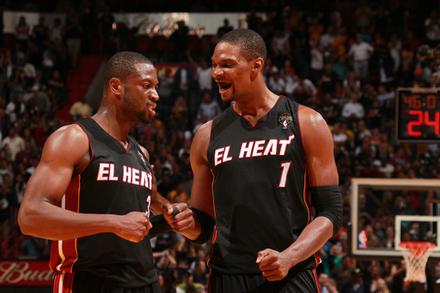 I don't often give enough credit to the Miami Heat but after beating the Lakers who were the hottest team in the NBA they deserve a lot of credit. They turned on something that we have not seen recently in the last 5 games, which was there defense. 
Dwayne Wade kept Kobe to 21 points with 8 of 21 shooting from the field. Also some people showed up to the game including Chris Bosh after demanding the ball after the lose to the Trailblazers rightly so he did just that by going 10 of 17 from the field for 24 points.
Another thing we saw was role players step up something that recently not been seen, players like Mario Chalmers scored 12 points. Mike Miller scored 12 of the bench as well. 
The Heat also erased erased a trend by not being able to finish games after dwane Wade stole the ball from kobe and passed the ball of to LeBron for a powerful dunk, to put them up 90-88 and winning the game 94-88. The only thing i wonder is if the Heat could do this night in and night out.
After all the Lakers are the hottest team in the NBA and Heat have  beat them twice this season. So it makes me wonder why they can't play this way againset the Celtics, Bulls, and the other elite teams in the NBA. Maybe this is a precursor for the end of the season for the Heat. That they will be able to play like this night in and out, or maybe it will be a small victory in a long war of a season for the Heat.
***Photo Credit to AP   
Related Posts :
Bosh, Heat, Miami, NBA, Wade