After losing the last 3 of 4 to the New York Knicks, the Orlando Magic, and The San Antonio Spurs. Many are wondering what is wrong with the Heat?
After being beat by a new and improved Knicks team lead my Carmelo and Chauncey billups the heat lost a heat breaker to the New York Knicks 91-86.
Trying to rebound from this lose they followed this up by chocking to the Orlando Magic. They were up by 24 points in the third quarter and lost 99-96.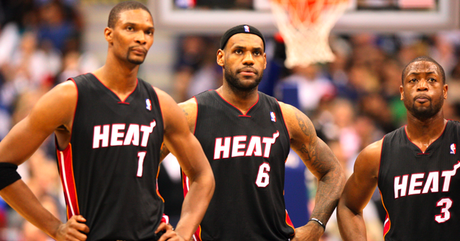 This continues the trend of where the heat will be up by double digit leads and often lose them do to not focusing.




And, recently when the games have been close at the end the roles are not clearly defined as to who takes the last shot which leads to confusion.

After this lose they played San Anotino and were crushed 125-95. With games like these it leads many to think what will happen in the playoffs and what the Heat, could really do in them. We will half to stay tuned to see.


****Credit to CBS sports for the photo Related Posts : Antonio, Heat, Knicks, Magic, NBA, Orlando, San, Spurs