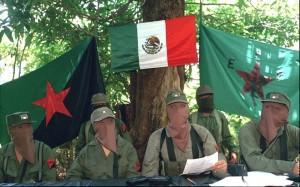 According to reports from Agence France-Press and Al Jazeera new rebel group called the Revolutionary Armed Forces–People's Liberation (RAF-PL) has emerged in Mexico's southern state of Guerrero on the first anniversary of Peña Nieto's presidency.
With masks over their faces, the rifle-bearing rebels gave a press conference at an undisclosed location recently, in which they read from a statement criticizing problems of education and political oppression.
"There is no day like today to declare war," the group's leader declared, calling for armed struggle against the government for its role in the botched drug war and its complicity in political assassinations of environmentalists, student organizers, and other activists.
According to some observers in Mexico, the corrupt War on Drugs (particularly in southern states like Michoacán and Guerrero) has been used to repress local activists—including those attempting to mitigate drug-related violence.
The formation of RAF-PL comes on the heels of vigilante killings of drug cartel leaders and coordinated attacks on more than a dozen power stations in the State of Michoacan, which caused blackouts affecting more than 400,000 people.
RAF-PL claims that energy reforms would surrender oil wealth to foreign corporations. The new group shares a similar name with the Popular Revolutionary Army, which blew up oil pipelines in 2007, but has not claimed any connection.
Mexico's Attorney General has pledged to probe the creation of the group.