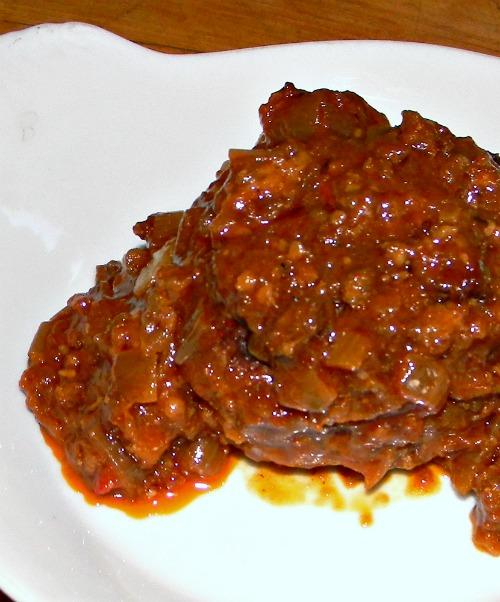 In a small town near where I grew up there was a shack of a hot dog place called Rutt's Hut, famous for their rippers. My Dad was one of those father's that insisted we eat a balanced meal, so the ripper's had to wait till high school. What I remember most was their Salisbury Steaks. Only place I remember that made them right. Everyone else's mom pretty much used a meatloaf recipe.
I decided to tear the lid off boring, and created mine around the Mexican and Cuban favorite, Picadillo (which I adore stuffed into Chiles Rellenos). No boring mushroom gravy here, I made a Chipotle Onion Gravy, wooohooo!!
The Nudge is not a fan of pimento stuffed green olives so I bought some yellow and red peppadews and they will add the tart/spicy, pickley flavor that is essential to Picadillo.
I have a handful of fried onion rings left in a bag, which I will pulse in the processor and that will be the bread binder and onion, along with garlic, Mexican seasonings (cumin, chili powder, garlic and onion powder, chipotle powder, salt and pepper) an egg and tomato paste.
Form the oblong patties, brown in a cast iron fry pan, add the gravy makings and simmer for 20 minutes.
The Nudge requested scalloped potatoes and for me, corn baked in a sauce made from mayonnaise, lime, chili pepper and queso fresco (just like the famous Mexican corn on the cob) or this healthy casserole.
So, since I will be away for Cinco di Mayo, this was my pre-Cinco meal.
Mexican Salisbury Steaks
makes 4 patties
* 3/4 pound of ground beef
* 1 egg
* 1/4 cup fried onions, processed (I buy
* 1/2 packet Hot n Spicy Taco Seasoning
* 1/4 cup ketchup
* 1 teaspoon dried mustard
* 3 chopped peppadews
* Salt & pepper
1. Place everything into a bowl and mix well, but just until well blended.
2. Divide meat into four equal portions and form 4 oblong patties.
3. Heat a large skillet with 1 tablespoon vegetable oil.
4. Saute patties for 2 minutes on each side. Remove to a platter.
Chipotle Onion Gravy
makes 1 cup
* 1 teaspoon vegetable oil
* 1/2 medium white onion, large chop
* 1 large clove garlic, minced
* 1 tablespoon tomato paste
* 2 tablespoons tequila (optional)
* 2 tablespoons McCormick Chipotle Meatball Sauce Mix
* 1/4 cup tomato sauce
* 1 cup water
1. Ass vegetable oil and saute onions and garlic on low heat till they take on a nice golden color. Add the tequila, stir and add in the tomato paste. Stir to blend and sprinkle in the sauce mix, the tomato sauce and the water.
2. Bring to a simmer, place the patties into the sauce, cover and cook for 20 minutes.
3. A side of Mexican rice to sop up the sauce and dinner is served.
Review: Please forgive the picture but The Nudge was packing his lunch so I hurried a shot before it was scooped away. This dish was excellent. Smoky, spicy, sweet, sour and tender (very tender). If you didn't want to make patties, use the recipe for a Enchilada stuffing or taco meat, but make this soon. When I get back from vacation I am making Enchilada's with this dish.