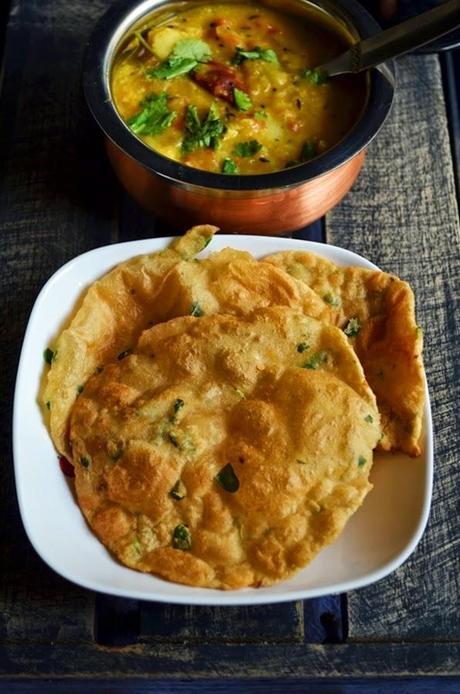 Methi poori is the combination of flavorful tender methi(fenugreek/vendhaya keerai) leaves with poori dough yielding an absolutely delectable breakfast/dinner. I bought methi leaves just for making these pooris,yeah I suddenly remembered these pooris I used to make long back and was literally craving. Here there is green grocer near my home who sells fresh greens every evening and methi leaves are hot sellers.Every time I go to that small shop only to hear methi leaves are sold out :(. So yesterday I typically pushed my husband out to buy these methi leaves very early in the evening and when he came back with fresh methi leaves I was so happy as if I got some big gold jewelry :P,I was that much desperate to eat methi leaves.I lovingly treated the methi leaves and stored them with due respect and made these pooris right for breakfast and here I am blogging about them right on the same day,is this not a big testimony for the success of the recipe :) This is a very simple recipe but pooris taste awesome,with the flavor of methi leaves in every bite.The addition of ajwain seeds adds a lot to flavor and this will be a sure hit with kids.You can use rava along with wheat flour but if you keep the pooris for long time they may turn hard when you use rava. I used just wheat flour here,over to recipe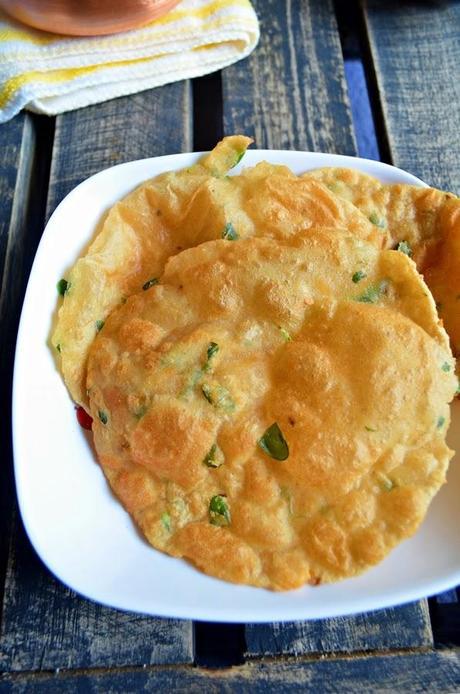 More interesting poori recipes from the blog
Potato poori-Kid's delight
Poori masal- Made for each other breakfast combo
Aloo bature and here are few tips and tricks for perfect pooris
Methi poori recipe
Star ingredients: wheat flour and tender methi leaves
Time:30 minutes
Yield: 15 pooris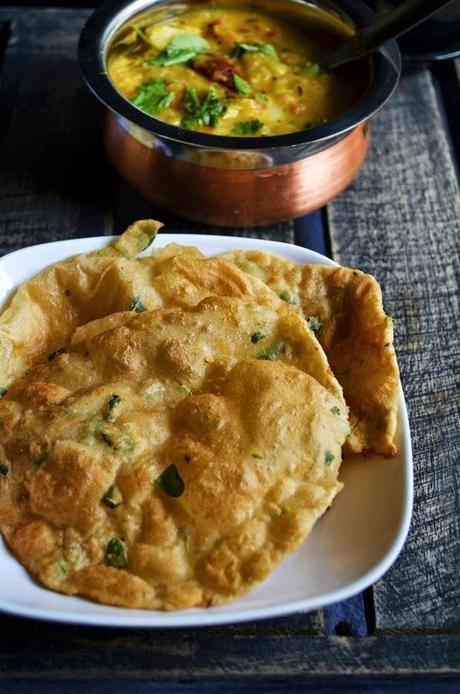 Ingredients:
1 1/2 cup whole wheat flour
1/4 cup fresh tender methi leaves
1/2 teaspoon ajwain seeds/carom seeds/omam
3 tablespoons curd
Salt
Water to knead the dough
Oil for deep frying
Method:
1.Pluck the methi leaves and wash them thorougly
2.Take all the ingredients except water in a bowl and mix well.
3.Start kneading adding water gradually.Do not make the dough very soft as we do for chapathi.The dough should be little stiff yet pliable.
4.Divide the dough into 15 lemon sized balls and roll out thin circles.
5.Deep fry 2-3 pooris at a time,till golden from both sides,on a medium flame.
6.Serve hot with any spicy gravy/sabzi.
Notes:
1.To remove the bitterness form methi leaves,you can mix some salt and leave it for 10 minutes,squeeze the water and use the leaves alone,but I don't do this as we like the flavor and taste of methi leaves.
2.You can add cumin seeds along with omom.
3.Yo can add a fistful of rava to make crispy pooris.